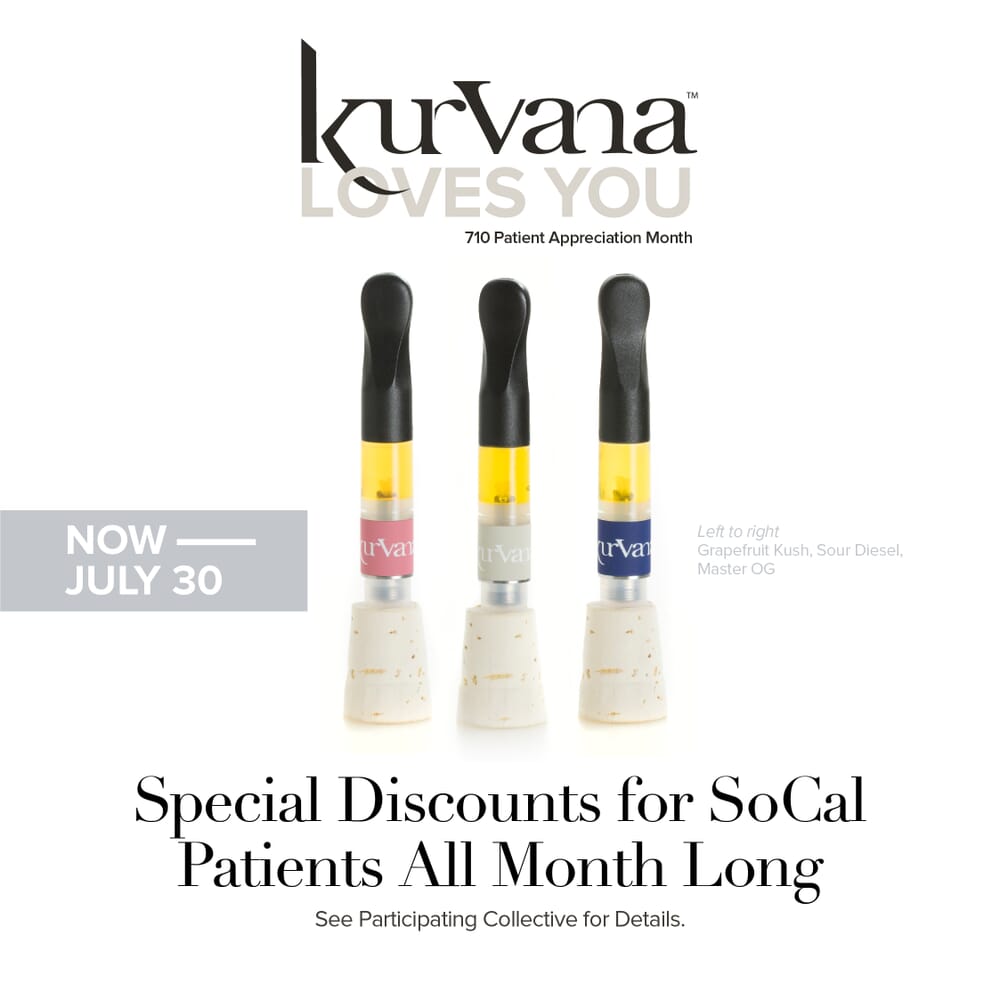 710 Deals All Month Long
It may be nearing the end of 710 for most, but Kurvana's celebration is just beginning. Annual Dab Day marks the start of our month-long 710 event for Southern California residents! We are offering special discounts on all our half and full gram cartridges from now thru July 30th. See your local participating collective for details.
We will be adding more collectives throughout the month, so be sure to check this list regularly to find a participating collective near you!
Participating Collectives:
Los Angeles
Barber Shop Top Shelf Cap 35 – Azusa
Above The Clouds – Bellflower
Gale Green House – Hacienda Heights
SRC Wellness – La Puente
Crenshaw Wellness Center – Los Angeles
Nature's Cure – Los Angeles
New Amsterdam Naturals – Los Angeles
OG Top Shop – Los Angeles
Good Old Dream – Los Angeles
TLC Collective – Los Angeles
6th Ave Collective – Los Angeles
Green Bud Collective – Los Angeles
Beneficial Medical Active Corp. – Los Angeles
The Heights Collective – Rowland Heights
OMG Group – Sylmar
Foothill Wellness Center – Tujunga
Westside Caregivers – Van Nuys
Bodhi Satvva – West Hollywood
Buddha's Buds – Whittier
In The Clouds – Whittier
Whittier Hotbox – Whittier
Whittier Topshop – Whittier
Mother Nature's Remedy – Woodland Hills
Inland Empire
Atomic Budz – Cathedral City
No Wait Meds – Cathedral City
Remedy Inc. – Cathedral City
Circle City – Corona
Brown Dog Health & Wellness Center – Desert Hot Springs
The Q – Fontana
SLS – Highland
Cali Releaf – Lomita
Gladiator Apothecary – Lake Elsinore
Moval 30 Cap – Moreno Valley
Infinite Kindness – Norco
New Spirit – Perris
Bomb Buds – San Bernardino
Good Times – San Bernardino
Hempire – San Bernardino
The Green Coyote – San Bernardino
OTF Collective – San Bernadino
Corner House – San Bernardino
Green Temple Alternative – San Bernardino
Mirage Alternative – San Bernardino
High Rollers – San Bernardino
HOTN Club – San Bernardino
Patient Med-Aid – San Bernardino
Orange County
The Choice – Anaheim
Green on Green Delivery – Anaheim
Aloha Community – Costa Mesa
Church – Costa Mesa
Costa Mesa Caregivers – Costa Mesa
Dr. Green Goods – El Cajon
Re-Up – Garden Grove
420 Exchange – Garden Grove
Best of the Best – Garden Grove
The Gas Station – Garden Grove
Green Tree Remedy – Garden Grove
420 Health Care Deliveries – Hacienda Heights
Peace of Green – Los Angeles
Quality Green – Redondo Beach
Bud and Bloom – Santa Ana
Elevated Dreams – Santa Ana
From The Earth – Santa Ana
Live 2 Love – Santa Ana
Santa Ana High Life – Santa Ana
Sky High Holistics – Santa Ana
Super Clinik – Santa Ana
Natural Wellness Association – Westminster
Delivery Services (Greater LA, OC & San Diego Areas)
The Herb Collective – Anaheim
Hello THC – Anaheim
Pot Hut – Anaheim
Pacific Coast Medical Delivery – Buena Park
RX-C – Carlsbad
Clear View Care & Collective – Chatsworth
CannglomoPharms LLC – Compton
Hi-Societe – Costa Mesa
Organix Wellness – Costa Mesa
Alohigh – Costa Mesa, Newport Beach, Irvine, Huntington Beach
Cheeba Hut – Covina
Go Gourmet Green – Dana Point
Advanced Holistic Healthcare – Fullerton
Industrial Hip Hop – Fullerton
Dank Club – Garden Grove
Pineapple Express – Hawthorne
Chiba Flight – Inglewood
Pharm Squad – Irvine
Unit 29 – Irvine
Zip Medicals – Los Angeles
Tree House Delivery – Long Beach
Pure Green America – Long Beach
The Cannabis Method – Los Angeles/Hollywood
Greenly Online Collective – Marina Del Rey
The Fyre House – Mission Viejo
Tree House Cure – Montclair
VC Kush – Newbury Park
Cannaluv – Orange County
Collective Selects – Oxnard
CaliFaithful – San Diego
Milkman – San Luis Obispo
SB Alternative – Santa Barbara
SB Greenthumb – Santa Barbara
Peaceful Alternatives – Santa Barbara
Kaya Collective – San Diego
RX-C – San Diego
Along Came Mary – Torrance
Tree House Collective – Vista