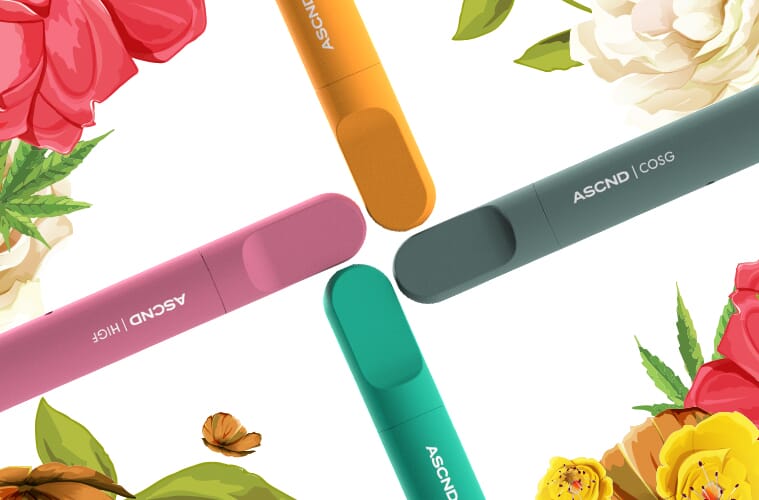 ASCND All-In-Ones Vapes Are Back
Ready for any adventure, Kurvana's celebrated ASCND line will be released in their popular All-In-One vape form this spring.
Available soon in California markets, Kurvana's ready-to-use All-In-One is back and better than ever. Known for its patented signature look, precise delivery, and compact design, they've made significant updates to deliver breakthrough performance with ultra portability.
Kurvana's ASCND™ line offers high-level oils that prioritize intense potencies and mild tastes. Each oil offers maximized THC levels for immediate, powerful effects. Their all-new ceramic heating element and optimized airflow delivers instant, high dose draws wherever you want it, whenever you want it.
ASCND oils are high cannabinoid, full spectrum, single origin extracts. These oils have an ideal composition for users who appreciate heavy psychoactive effects and a true-to-strain flower or weedy taste profile, while still retaining crucial bioactive terpenes and flavonoids.
8 Reasons to Try The ASCND All-In-One Collection
All-In-One: Ready to use device
Compact Design: Delivers precise flavor profiles
Color Coded: Strain-specific colors and branding
Pre-Filled: True 0.5 mL extract
Short-Path Airflow: Delivers vapor quicker and more efficiently
CTEC 2.0: Ceramic heating element designed for viscous ASCND oils
Long-Lasting: 380 mAh battery, up-to 100 draws
Premium Finishes: Durable soft-touch coatings
The ASCND All-In-One Collection includes: Dutch Treat, Earth OG, Jet Fuel, Purple Punch, Cosmic Glue, Mimosa, Wedding Cake, Cactus Cooler, High Fashion, Tangie Dream.
Find your favorite retailer on Weedmaps or buy it locally here.
---
Now available at these fine retailers:
SF/Bay Area
Inland Empire
Orange County
Delivery
San Diego
Los Angeles
The Valley