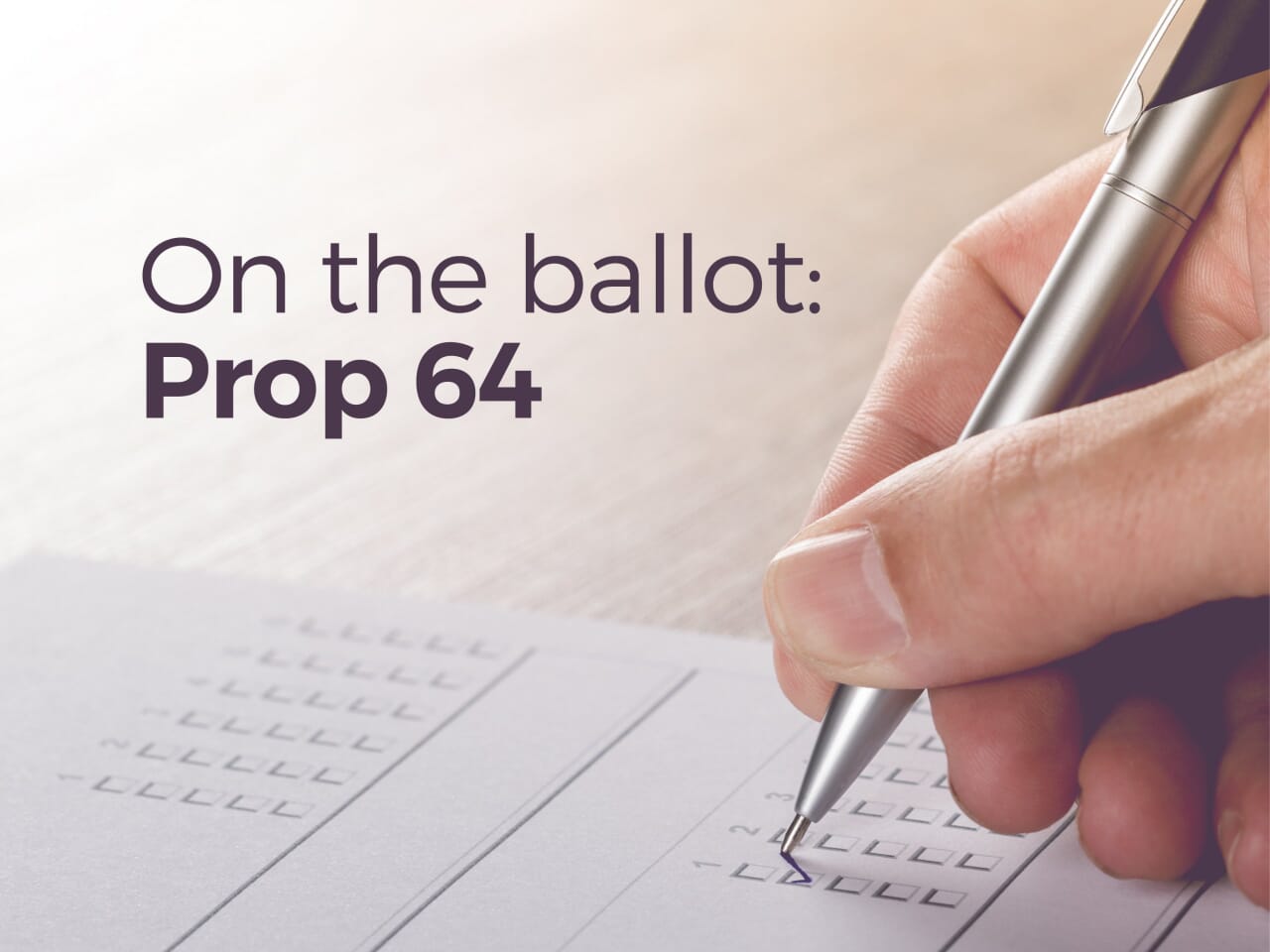 On the Ballot: Proposition 64
The Big Question: Should California legalize recreational use of marijuana and establish certain sales and cultivation taxes?
The Big Picture:
The Consumer (You!)
Adults ages 21+ may possess, transport, purchase, consume and share up to one ounce of marijuana and eight grams of marijuana concentrates (waxes and oils that can be vaporized) under state law
Adults ages 21+ may grow up to 6 plants at home
Marijuana use in public will remain illegal, unless used at licensed cafes/businesses licensed for on-site marijuana consumption
Driving while impaired will remain illegal
Two new state excise taxes will be imposed, one on cultivation ($9.25 per ounce for flowers and $2.75 per ounce for leaves) and one on sales/retail price (up to 15% tax)
City and county governments will have authority to regulate and tax (additional) marijuana
Medical marijuana will be exempt from some taxation
The State
State agencies will license and regulate the marijuana industry
Statewide standards and restrictions for marijuana products will be established for packaging, labeling, advertising, and marketing requirements
Prohibits the marketing of marijuana to minors, protecting children
Employers will be protected, companies may hire and fire based on drug tests
Bans large-scale cultivation by delaying issuance of large cultivation licenses for the first 5 years, favoring small scale producers to keep large corporations from gaining a monopoly. State cap on size of marijuana farms will be removed after Jan. 1, 2023
Legalizes industrial hemp production
Long-Term Fiscal Impact
Additional annual state revenue of up to $1 billion – to be spent on drug research, drug treatment, law enforcement, environmental restoration, and youth programs (60% of revenue allotted)
Saves state and local governments up to $100 million annually due to reduced legal, enforcement and incarceration costs
Reduces criminal penalty for marijuana
Launches large-scale, mass social experiment – California may become the largest state yet to legalize marijuana
The measure could result in an increase in the consumption of marijuana, potentially resulting in an unknown increase in the number of individuals seeking publicly funded substance use treatments
Results in costs for the state to regulate the commercial production and sale of marijuana
Small marijuana farmers may be unable to compete with larger businesses when the five-year ban limiting growth to six plants is lifted and large businesses are able to apply for a license that allows unlimited amounts of marijuana cultivation
Some Well-Known Supporters of Prop. 64:
U.S. Sen. Bernie Sanders (I) of Vermont
Steven Downing, Deputy Chief of the Los Angeles Police Department
Harvey Milk LGBT Democratic Club
California Young Democrats
Los Angeles Times
San Francisco Chronicle
Orange County Register
California Cannabis Industry Association
Parents for Addiction Treatment and Healing
Progressive Christians Uniting
California Nurses Association
Some Well-Known Opponents of Prop. 64:
AA of Southern California
California Hospital Association
California Association of Highway Patrolmen
California Police Chiefs Association
DUID Victim Voices
United States Senator Dianne Feinstein
State Senator Joel Anderson
State Senator Cathleen Galgiani
State Senator Jim Nielsen
Bishop Ron Allen, International Faith Based Coalition
Randall Avila, Vice-Chair, City of Monterey Park Recreation and Parks Commission
Dennis Bauer, Policy Advisor, Orange County Board of Supervisors
What to Expect on November 8, 2016?
Poll analysis suggests Prop. 64 will pass, but narrowly. Polls have ranged from 51-71% support, averaging 60% support for Prop. 64.
What's next?
Submit your vote-by-mail ballots or head to the polls! Vote-by-mail ballots will be accepted on election day as long as they are postmarked by November 8, 2016. Additionally, you can submit your vote-by-mail ballot to any polling location on election day. If you have not received your vote-by-mail ballot or if your name does not appear on the roster of your polling location, ask for a provisional ballot. Whether you vote yay or nay on Prop 64, remember one thing: every vote counts!
See you at the polls.
-Kurvana