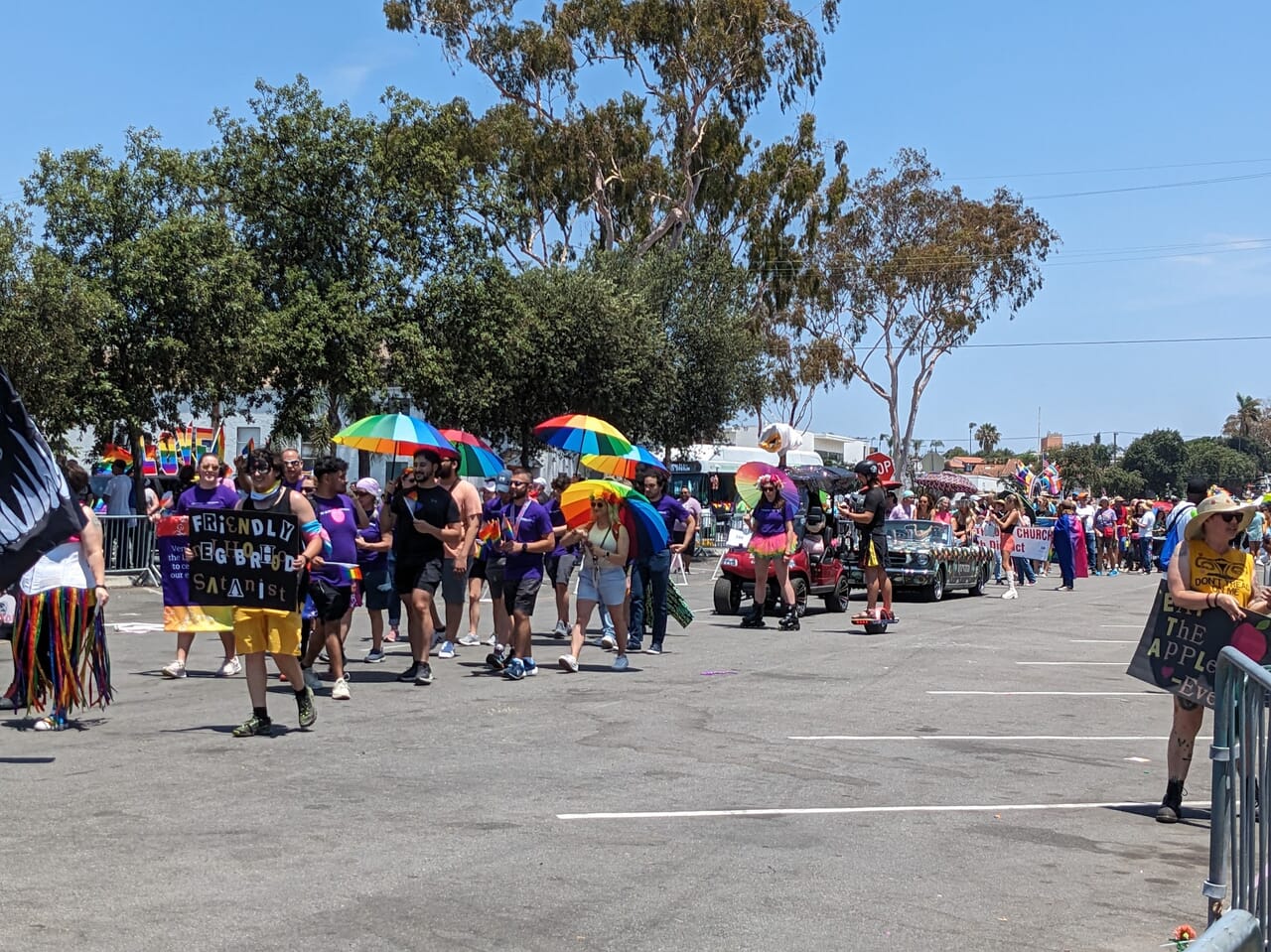 PRIDE PARADE SAN DIEGO: KURVANA'S EMPOWERING CONTRIBUTION TO EQUALITY AND DIVERSITY
Pride parades are hosted globally in the month of June to celebrate LGBTQ+ social and self-acceptance, their achievements, legal rights and pride. LGBTQ+ people, their families, allies and friends, all come together to celebrate their visibility and empowerment, and their ongoing fight for equality. In San Diego, California, this annual event has become an iconic celebration of LGBTQ+ rights, diversity and inclusion.
With its vibrant colors, exuberant displays of love and acceptance, and a powerful sense of community, the San Diego Pride Parade has evolved into one of the biggest and most influential pride events in the world. In order to support the LGBTQ+ community, promote diversity, equality and inclusion, and empower individuals to be their authentic selves, Kurvana joined in the 2023 San Diego's pride parade leaving a long-lasting impression. In this article, we will highlight Kurvana's impact at the 2023 pride parade in San Diego, and the company's role in the fight for diversity and equality.
SAN DIEGO PRIDE PARADE 2023 AS IT HAPPENED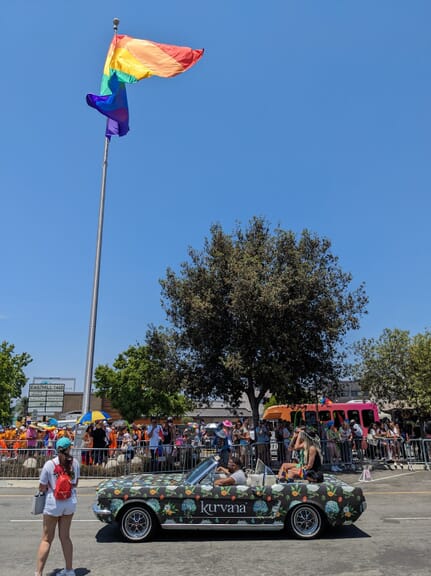 Massive crowds thronged the streets of San Diego under the sunny skies on Saturday, July, 15th, 2023 to take part in one of America's biggest pride parades. The parade began at the Hillcrest pride flag at University Ave, marchers, onlookers, and exuberant crowds took over the city in their rainbow colors with a procession that lasted for hours.
The excitement was palpable as a plethora of events across the borough unfolded. Colorfully-clad attendees cheered, danced, fluttered rainbow fans to beat the heat, and blew bubbles in show of their support and celebration for America's LGBTQ+ community, which has faced a rising number of threats and witnessed attacks on long-sought rights in recent years. Not only was there the usual huge parade, but several organizations, companies, and bars including Kurvana, joined forces to celebrate pride in a unique way.
The parade was an avenue for people of all genders, sexual orientation and identities to come together, express their real selves, and advocate for equality. LGBTQ+ organizations, allies, and community groups ensured that the voice of every LGBTQ+ individual in San Diego was heard, and every aspect of the community represented. The parade was an epic one with a joyous celebration of LGBTQ+ pride and a reaffirmation of the basic human right to love whomever we choose.
KURVANA's IMPACT AT THE 2023 SAN DIEGO PRIDE PARADE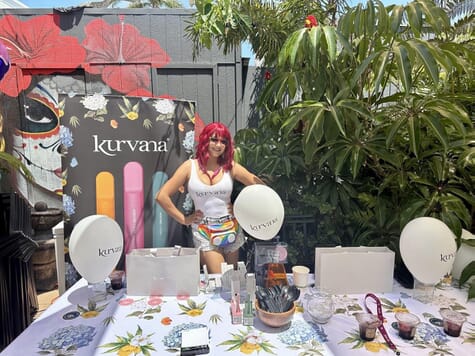 The 2023 San Diego pride parade was a busy one as the pride march drew tens of thousands of revelers, with Kurvana, in attendance creating a great impact at the event. Kurvana seized the opportunity to advertise and distribute its whole-plant cannabis, ASCND collections and cartridges to LGBTQ+ members at the event who seek an all-natural product. These were pure and safe products in the cannabis and hemp space. LGBTQ+ members, their allies and community groups were immersed in the curated vape world by Kurvana, and they discovered a world of elevated vaping like never before.
For every cartridge given to an LGBTQ+ individual at the event, the company's employee explained the plant content, its immediate and powerful effect, and how each plant was meticulously harvested using methods specific to its genetics, resulting in a pinnacle extract with unmatched aroma and taste. Gay, queer and transgender members also received a free shared ice cup from Kona ice truck together with free sway handouts and battery engravings courtesy of this amazing company.
This event was an opportunity for the company's growth and they utilized the opportunity very well by creating a customer-friendly atmosphere. The visibility and acceptance fostered by the company at the pride parade helped to challenge stereotypes and stigmas, and advanced LGBTQ+ rights in California and beyond. Their involvement in the celebration provided a welcoming space for LGBTQ+ individuals to express their identity and find a sense of belonging. Additionally, it inspired the creation of similar events in other cities, spreading the message of acceptance and fostering change on a larger scale. Kurvana's presence with their unique products and extraordinary tapestry of cartridges left an indelible mark at the pride festival.
KURVANA'S ROLE IN EQUALITY AND DIVERSITY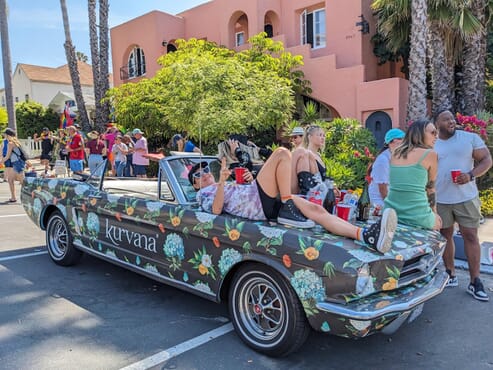 Kurvana is committed to reimagining a healthier life for everyone. Supporting the LGBTQ+ community, facilitating a safe and inclusive workplace, and empowering its employees to be their real selves' are ways the company used to turn this vision into a reality.
Kurvana takes immense pride in its commitment to inclusivity, diversity, and corporate social responsibility. Driven by that sense of social responsibility, it is dedicated to creating an environment where everyone feels like they belong, that means, fostering an environment that encourages employees to be their authentic selves. This unwavering idealism is a powerful catalyst for change, inspiring movements that challenge deeply ingrained norms and ignite conversations that shape the very fabric of the workplace.
Kurvana's success depends on every one of their employees, and the ways in which they differ are among their greatest sources of strength. These include visible and non-visible attributes such as ethnicity, gender, gender identity, sexual orientation, race, age, people with disabilities, beliefs, thinking styles, appearance, nationality, among others. Employees feel valued, respected, and empowered to bring their whole selves to work. It leverages the remarkable diversity of people across the world to achieve its purpose of making consumers feel good and refreshed. Diversity and Inclusion are core values at Kurvana and committing to these principles helps the company to accelerate innovation, increase performance and ultimately achieve its mission.
CONCLUSION
While the San Diego pride parade is a celebration of progress, it also serves as a reminder that the fight for LGBTQ+ equality and diversity is far from over. Despite remarkable advancements, the LGBTQ+ community still faces challenges including, violence, discrimination and unequal treatment. Kurvana is empowering a brighter future for LGBTQIA+ employees and allies within its company and the community where they live, work and serve. By embracing the spirit of pride, the company inspires change within its organization, the communities, and society as a whole.
FREQUENTLY ASKED QUESTIONS
When is the pride parade in San Diego?
The pride parade in San Diego is a yearly event held in the month of June. It is the period set aside to celebrate LGBTQ+ rights, self-acceptance, diversity and inclusion.
Is the San Diego Pride parade free?
The San Diego Pride parade is absolutely free. However, the organizers may request for a donation in the course of the event.