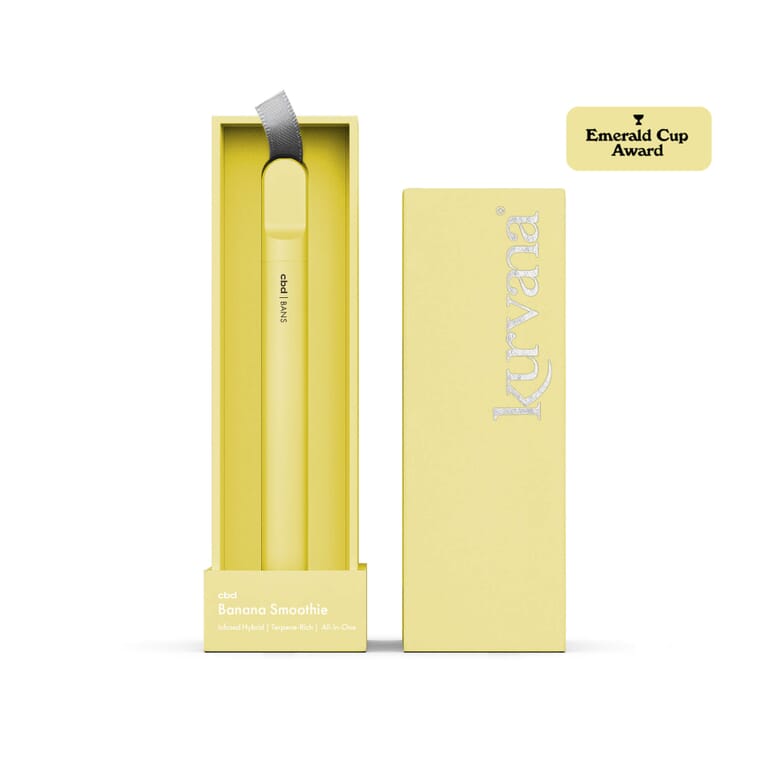 Banana Smoothie 5:1:5 All-In-One
Infused Hybrid
Fruity, Sweet, Tropical
Balanced CBD:THC ratio blended with signature notes that are reminiscent of the desirable taste of a banana smoothie.
Shop Delivery
Shop Locally
$38
(+applicable local and state taxes)
KurvanaScope
Unprecedented testing transparency. Learn more about this strain below:
Description

Kurvana's Banana Smoothie All-In-One vape is a convenient and user-friendly cannabis product that combines the popular Banana Smoothie strain with an integrated pre-filled cartridge and battery, eliminating the need for any additional accessories. The infused cannabis oil used in this CBD and THC vape is of high quality, extracted using advanced techniques that preserve the strain's natural terpenes and flavors, providing a deliciously fruity and smooth vaping experience. The Banana Smoothie strain effects are known to offer a balanced and calming high, which can help relieve stress and anxiety.

This CBD vape pen (CBD ratio pen) features CBD, CBG and, THC, making it the best CBD vape (CBD ratio pen) choice for those looking to experience the benefits of all 3 naturally occurring compounds. The inclusion of CBD in this CBD, CBG, and THC vape pen can provide additional therapeutic benefits, such as helping with reducing inflammation and pain. Kurvana maintains strict quality and safety standards by subjecting all its products, including the Banana Smoothie All-In-One vape, to rigorous testing to ensure purity and consistency. This CBD, CBG, and THC vape is a popular choice for cannabis enthusiasts who prefer a discreet and easy way to enjoy the Banana Smoothie strain with the added benefits of CBD, CBG, and THC while on-the-go.

Potency

Total Cannabinoids

70.09%

Total CBD

30.31%

Total CBG

6.34%

Total THC

31.29%

*Potencies vary by batch.

Primary Terpenes

Ingredients

Cannabis oil and cannabis-derived terpenes

Testing Methodology

All Kurvana products are lab tested multiple times throughout the production process including a final state mandated compliance test which undergoes 7 phases of testing for: Microbials, Mycotoxins, Pesticides, Cannabinoids, Heavy Metals, Foreign Materials and Residual Solvents.

Specifications

Our ready to use All-In-One is back and better than ever. Known for its patented signature look, precise delivery, and compact design, we've made significant updates to deliver breakthrough performance with ultra portability.

01. All-In-One
Ready to use device

02. Compact Design
Delivers precise flavor profiles

03. Color Coded
Strain-specific colors and branding

04. Pre-filled
True 0.5 mL extract

05. Short-Path Airflow
Delivers vapor quicker and more efficiently

06. CTEC 2.0
Ceramic heating element designed for cbd's infused terpene-rich oils

07. Long Lasting
380 mAh battery, up to 100 draws

08. Premium Finish
Durable soft-touch coating

Awards

Kurvana's Banana Smoothie 5:1:5 won 2nd place in the "Alternative Cannabinoid Cartridge" category at Emerald Cup Awards 2022 in Los Angeles, CA.