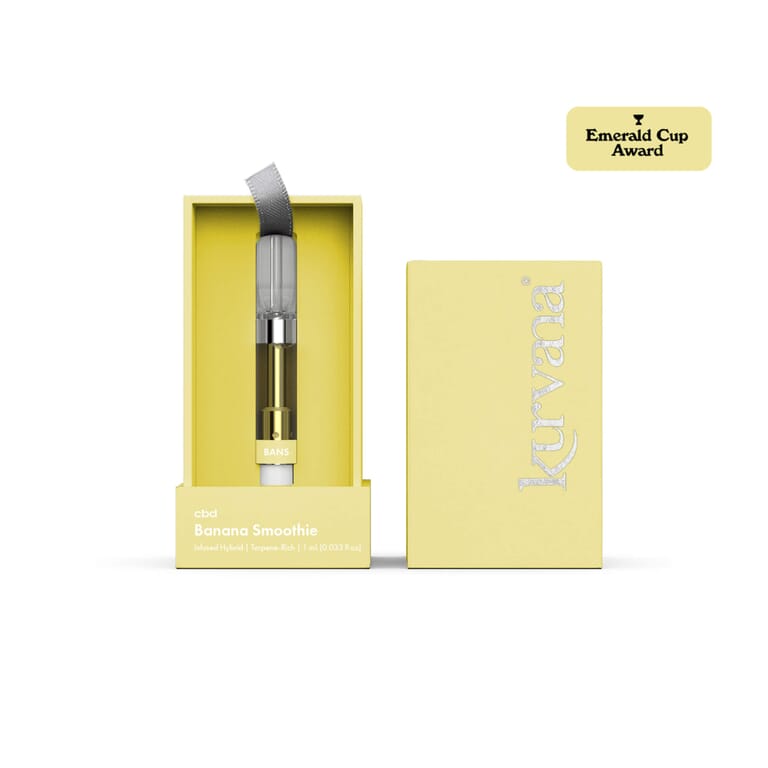 Banana Smoothie 5:1:5
Infused Hybrid
Fruity, Sweet, Tropical
Balanced CBD:THC ratio blended with signature notes that are reminiscent of the desirable taste of a banana smoothie.
Shop Delivery
Shop Locally
$35-$60
(+applicable local and state taxes)
KurvanaScope
Unprecedented testing transparency. Learn more about this strain below:
Description

Banana Smoothie is a hybrid strain that delivers the sweet taste and aroma of the popular, refreshing drink from which it takes its name. Winning second place in the Alternative Cannabinoid Cartridge category at the 2022 Emerald Cup Awards, Banana Smoothie imbues its signature tropical fruit character with every draw, conjuring feelings of summertime bliss.

With a 1:1 CBD to THC ratio, Banana Smoothie offers a balance of calming and uplifting effects that make it perfect for daytime use. This banana-flavored cannabis can be enjoyed by new and experienced consumers alike, whether unwinding at the beach, after a workout, or just during a relaxing afternoon at home. The balanced blend means the psychoactive properties in the THC are buffered by the equal amount of CBD, making it excellent for those seeking a less intense, more harmonious blend.

Like other Kurvana CBD products, Banana Smoothie contains live whole plant extract, including primary cannabinoids and other crucial bioactive elements. Some of the terpenes prominent in this strain of cannabis, including linalool, beta-myrcene, and limonene also occur naturally in banana plants, explaining the sweet-tasting, banana aroma of this strain.

You can experience a taste of tropical Banana Smoothie with Kurvana's 0.5 mL cartridge or a conveniently portable all-in-one device. Prices range from $35 to $60.

Potency

Total Cannabinoids

70.09%

Total CBD

30.31%

Total CBG

6.34%

Total THC

31.29%

*Potencies vary by batch.

Primary Terpenes

The primary terpenes contained in Banana Smoothie cannabis are linalool, beta-caryophyllene, beta-myrcene, limonene, and alpha-humulene. Each of these terpenes impacts the effect of THC in Banana Smoothie, as elaborated below.

Linalool: Commonly associated with essential oils used in aromatherapy like lavender, this terpene is known to alleviate stress, while promoting sensations of calm and relaxation.

Beta-caryophyllene: This terpene is said to have anti-inflammatory effects, and some users claim that it provides pain relief and helps them manage their depression symptoms. It is found naturally in basil, black pepper, and oregano.

Beta-myrcene: It is known to provide pain relief and impart a soothing, calming effect. It is found naturally in hops, mango, and lemongrass.

Limonene: Improves mood and helps to alleviate anxiety and depression. Found naturally in lemon, juniper, and peppermint, it is distinguishable by its citrusy flavor.

Alpha-humulene: This is known as an anti-inflammatory terpene. Some users report that strains with this terpene have suppressed appetite. It is also found in the popular herbal medicine ginseng, which many believe enhances energy levels, as well as cloves and sage.

Extraction

The purity of Kurvana cannabis oils is preserved through proprietary and unadulterated extraction methods.

Our extraction process excludes chemical solvents, thereby ensuring both purity and safety. The specific chemical profile of the Banana Smoothie strain is extracted as-is, preserving the natural essence of the strain, and allowing consumers to experience the richness of this tropical smoothie strain.

Additives commonly blended into other brands, such as vitamin E acetate, propylene glycol, vegetable glycerin, artificial cartridge flavors, synthetic terpenes, fillers, and thinners, are never used in our products.

Ingredients

The Banana Smoothie strain contains a unique blend of cannabis oil and cannabis-derived terpenes. It has a low amount of cannabigerol (CBG), equal amounts of tetrahydrocannabinol (THC) and cannabidiol (CBD), and extremely low concentrations of cannabinol (CBN).

The terpenes in cannabis oil contribute to each strain's unique aroma, flavor and effect. They work in tandem with the cannabinoid content in each strain to enrich the vape experience, by imparting different psychoactive influences. They also have an entourage effect, which means they work synergistically with the THC and CBD balance in the Banana Smoothie cannabis strain to produce a refreshing, yet relaxing experience.

Banana Smoothie Effects and Uses

Kurvana's Banana Smoothie CBD is a full-spectrum extract, merging scientific knowledge with art to create a perfectly balanced CBD oil. The result is a superior vaping experience that produces the desired physical relaxation without overly sedative effects.

Banana Smoothie is one of our most popular fruity-tasting cannabis strains, and not just for delivering a taste of the tropics. Consumer reviews say that it's a soothing and relaxing product that mellows rather than sedates, thus allowing them to carry out their daily tasks.

The CBD to THC ratio in the Banana Smoothie strain relaxes the body and mind, and the presence of CBG contributes to the calmness and clarity associated with this strain. The natural terpenes collaboratively produce the ultimate vaping experience and overall holistic wellness benefits. Relaxing linalool terpene effects are particularly prominent in Banana Smoothie, making it a go-to stress eliminator.

With its unique blend of CBD and terpenes, the tropical taste of Banana Smoothie is popular among people living with insomnia, anxiety, and chronic pain. The vape is equally ideal for day and nighttime use.

Testing Methodology

Kurvana's commitment to quality over everything is exemplified by its rigorous testing methodology. Kurvana consistently exceeds regulatory standards and ensures safety through its rigorous 7-phase testing methodology, which is run on every batch of cannabis. The test screens cannabis products for microbes, mycotoxins, pesticides, heavy metals, foreign materials, residual solvents and vitamin E acetate before releasing them onto the market. The purity of Kurvana products is confirmed at every stage of extraction and testing, both in-house and by third-party labs.

Our products NEVER use any fillers or additives. The ONLY ingredients that are found in our vaporizer pens are natural, full-spectrum cannabis oil and cannabis-derived terpenes.

You can now also find full test results and much more by scanning the LUCID ID QR code on the back of our packaging.

Awards

Kurvana's Banana Smoothie 5:1:5 won 2nd place in the "Alternative Cannabinoid Cartridge" category at Emerald Cup Awards 2022 in Los Angeles, CA.
| Strain Name | Strain Type | Anxiety | Appetite | Creativity | Depression | Energy | Inflammation | Insomnia | Nausea | Pain | Relaxation | Stress |
| --- | --- | --- | --- | --- | --- | --- | --- | --- | --- | --- | --- | --- |
| Sunset Tea 10:5:1 | Infused Indica | | | | | | | | | | | |
| Banana Smoothie 5:1:5 | Infused Hybrid | | | | | | | | | | | |
| Mint Chip 5:1:10 | Infused Sativa | | | | | | | | | | | |
This chart is for educational purposes only. This information is neither a substitute for, nor does it replace, professional medical advice, diagnosis, or treatment. If you have any concerns or questions about your health, you should always consult with a physician or other health-care professionals.