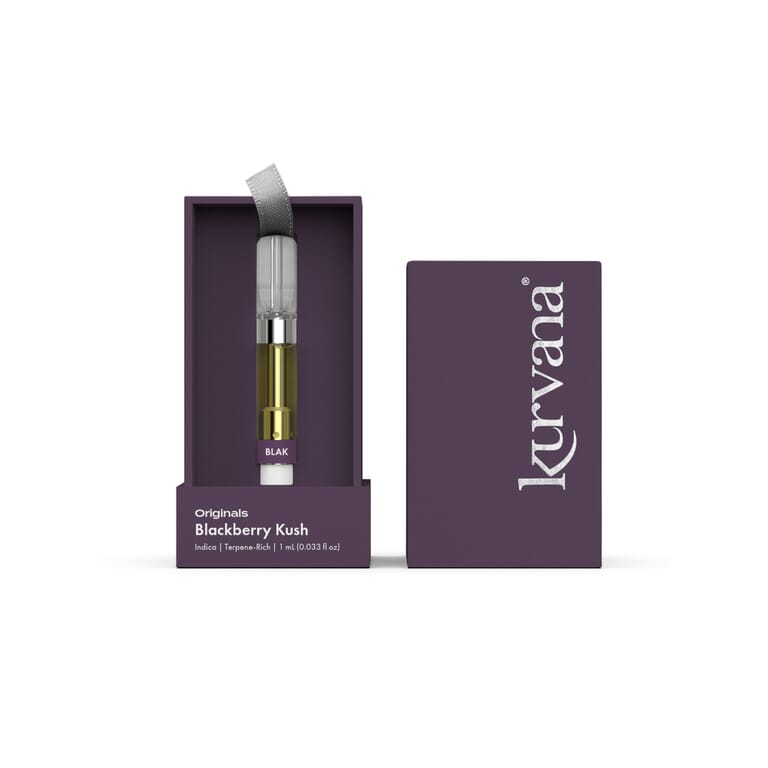 Blackberry Kush
Indica
Berry, Sweet, Earthy
Tastes of rich berries balanced by heavy earthy undertones, provide an uplifting experience.
Shop Delivery
Shop Locally
$35-$60
(+applicable local and state taxes)
KurvanaScope
Unprecedented testing transparency. Learn more about this strain below:
Description

Jet Fuel is a relaxing, indica-leaning hybrid cannabis strain. Users enjoy Jet Fuel for its peaceful properties, which help alleviate the anxiety of many users. Jet Fuel is a cross of Aspen OG and the renowned High Country Diesel strain – both pungent, aromatic varieties.

As part of our ASCND line, Jet Fuel is a full-spectrum extract with a high THC level. These THC cartridges convey the original flavor of the plant whilst delivering a fast-acting, powerful effect.

Kurvana's Jet Fuel cartridges come in 0.5 mL and 1.0 mL sizes and fit our sleek, elegant buttonless batteries that refine the vaping experience and allow for discretion. An all-in-one device, pre-loaded with our Jet Fuel cartridges, is ideal for on-the-go vapers. Kurvana's Jet Fuel strain price ranges between $40-65.

Potency

Total Cannabinoids

85.20%

Total THC

81.02%

Total CBD

<0.20%

*Potencies vary by batch.

Primary Terpenes

The primary terpenes contained in Jet Fuel cannabis are limonene, beta-caryophyllene, beta-myrcene, alpha-humulene, and alpha-pinene. Each of these terpenes impacts the effect of THC in the Jet Fuel strain, as elaborated below:

Limonene: Improves mood and helps to alleviate anxiety and depression. Found naturally in lemon, juniper, and peppermint, it is distinguishable by its citrusy flavor.

Beta-caryophyllene: This terpene is said to have anti-inflammatory effects, and some users claim that it provides pain relief and helps them manage their depression symptoms. It is found naturally in basil, black pepper, and oregano.

Beta-myrcene: It is known to provide pain relief and impart a soothing, calming effect. It is found naturally in hops, mango, and lemongrass.

Alpha-humulene: This is known as an anti-inflammatory terpene. Some users report that strains with this terpene have suppressed appetite. It is also found in the popular herbal medicine ginseng, which many believe enhances energy levels, as well as cloves and sage.

Alpha-pinene: It boosts energy and improves focus. This terpene is also said to have anti-inflammatory effects. It is found naturally in conifers, sage, and parsley.

Ingredients

The Jet Fuel strain contains a unique fingerprint composition of cannabis oil and cannabis-derived terpenes. The natural composition of the cannabis concentrate includes tetrahydrocannabinol (THC) with low concentrations of cannabidiol (CBD) and minor cannabinoids, including CBG and THCV.

The natural terpenes in cannabis oil contribute to each strain's unique aroma, flavor, and effect. They work in tandem with the cannabinoid content in each strain to enrich the vape experience by imparting different psychoactive effects. Terpenes have an 'entourage effect', which means they can work synergistically with THC to boost energy and enhance peaceful or relaxing effects.

Jet Fuel Effects and Uses

Jet Fuel strain cartridges are popular among users who are looking for a quick energy boost, as this particular strain produces a nearly immediate euphoric effect, gradually giving way to a prolonged dream-like, relaxed state. The effect of the Jet Fuel strain makes it popular among end-consumers for an evening of socializing. Jet fuel cartridges are also used by some artistic vapers, as it helps them get into an energetic and creative headspace.

Due to its unique blend of THC and terpenes that improves mood and alleviates stress, Jet Fuel is also popular among people who experience anxiety, depression, and chronic pain.

Many users prefer to use the Jet Fuel strain during the daytime, as opposed to immediately before sleeping, due to its energizing and mood-boosting effects that eventually wear off into calm bliss.

Some Jet Fuel reviews report tiredness after smoking, but this is dependent on the user's vaping experience and individual metabolism.

Testing methodology

Kurvana's commitment to quality over everything is exemplified by its rigorous testing methodology. Kurvana consistently exceeds regulatory standards and ensures safety through its rigorous 7-phase testing methodology, which is run on every batch of cannabis. The test screens cannabis products for microbes, mycotoxins, pesticides, heavy metals, foreign materials, residual solvents, and vitamin E acetate before releasing them onto the market. The purity of Kurvana products is confirmed at every stage of extraction and testing, both in-house and by third-party labs.
Average Rating:

5.0

out of

5

(

1

votes)
Amazing
I absolutely love this strain this was my first experience yes it made me hungry, I do feel or felt like I was in a dreamy state , I was relaxed, focused, this was a great experience I will be buying more.
3 weeks ago
| Strain Name | Strain Type | Anxiety | Appetite | Creativity | Depression | Energy | Inflammation | Insomnia | Nausea | Pain | Relaxation | Stress |
| --- | --- | --- | --- | --- | --- | --- | --- | --- | --- | --- | --- | --- |
| Blackberry Kush | Indica | | | | | | | | | | | |
| Master OG | Indica | | | | | | | | | | | |
| True OG | Indica | | | | | | | | | | | |
| Grapefruit Kush | Hybrid | | | | | | | | | | | |
| G.S. Cookies | Hybrid | | | | | | | | | | | |
| Headband | Hybrid | | | | | | | | | | | |
| Blue Dream | Sativa | | | | | | | | | | | |
| Lemon Haze | Sativa | | | | | | | | | | | |
| Pineapple Express | Sativa | | | | | | | | | | | |
| Sour Diesel | Sativa | | | | | | | | | | | |
*This guide is for informational purposes only. This information is neither a substitute for, nor does it replace, medical advice, diagnosis, or treatment. If you have any concerns or questions about your health, you should always consult with a physician or other healthcare professionals.