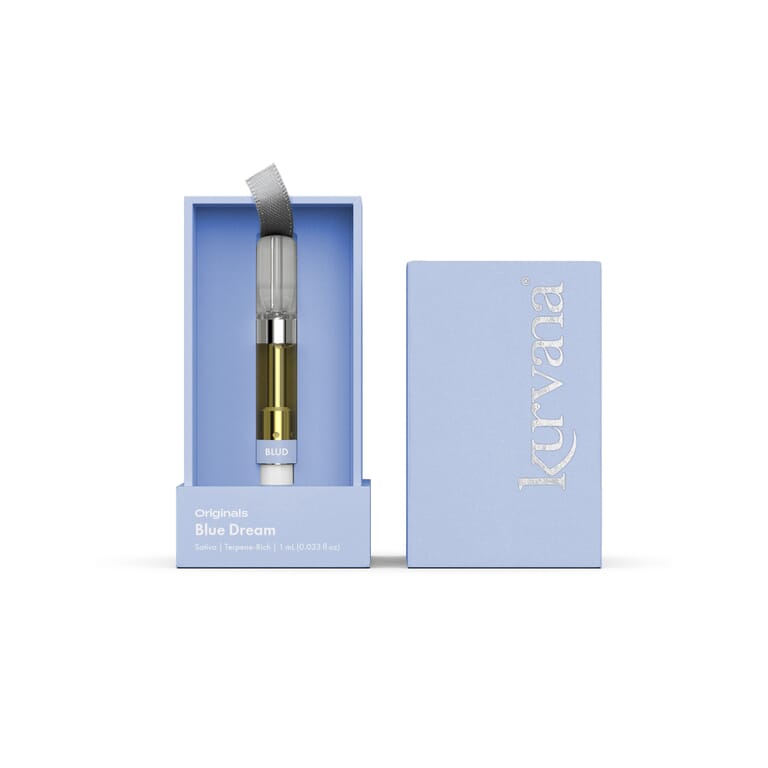 Blue Dream
Sativa
Berry, Sweet, Musky
With aromatic boasts of sweet berry, this timeless classic produces uplifting effects for any occasion.
Shop Delivery
Shop Locally
$35-$60
(+applicable local and state taxes)
KurvanaScope
Unprecedented testing transparency. Learn more about this strain below:
Description

Blue Dream is a hybrid cannabis strain that users say uplifts their mood while also providing a relaxing but non-drowsy effect.

This sativa-dominant hybrid came from northern California and is popular among users on the west coast. It was created by crossing Haze and Blueberry varieties. Blue Dream's strong sativa genetics come from one of its parent strains, Haze. This strain owes its indica genetics to its other parent strain, Blueberry. Legendary among users for its familiar terpene profile and potent indica effects. The result is a functional strain that produces a gentle effect without disrupting the mind and body.

Kurvana's Originals collection includes Blue Dream strain cartridges (also referred to as Blue Dream carts), and Blue Dream All-In-One. Featuring a sweet berry taste coupled with musky, earthy tones, Blue Dream cartridges provide users with a perfect balance of flavor.

Potency

Total Cannabinoids

85.19%

Total THC

81.65%

Total CBD

<0.20%

*Potencies vary by batch.

Primary Terpenes

The primary terpenes contained in Blue Dream are beta-myrcene, limonene, terpinolene, alpha-pinene, beta-caryophyllene, and carene. Each of the Blue Dream terpenes impacts the effect of the THC in the cannabis cartridge, as elaborated below.

Beta-myrcene: It is known to provide pain relief and impart a soothing, calming effect. It is found naturally in hops, mango, and lemongrass.

Limonene: It improves mood and helps to alleviate anxiety and depression. Found naturally in lemon, juniper, and peppermint, it is distinguishable by its citrusy flavor.

Terpinolene: It helps to reduce anxiety and improves mood. Its sedative effects help to relax the body and potentially help with sleep disorders. It's found naturally in rosemary, lilac, and nutmeg.

Alpha-pinene: It boosts energy and improves focus. This terpene is also said to have anti-inflammatory effects. It is found naturally in conifers, sage, and parsley.

Beta-caryophyllene: This terpene is said to have anti-inflammatory effects, and some users claim that it provides pain relief and helps them manage their depression symptoms. It is found naturally in basil, black pepper, and oregano.

Carene: This terpene is said to have anti-inflammatory effects, and some believe it contributes to bone health. It may also improve mental focus and memory, and can help promote relaxation and sleep. It's found naturally in cedar, pine, and allspice.

Extraction

The purity of Kurvana cannabis oils is preserved through our proprietary extraction methods.

Our process excludes chemical solvents, thereby ensuring both purity and safety. The specific chemical profile of the Blue Dream cannabis oil is extracted as-is, preserving the natural essence of the plant, and allowing consumers to experience the richness of Blue Dream flavor. Additives, such as vitamin E acetate, propylene glycol, vegetable glycerin, artificial flavoring, synthetic terpenes, fillers, and thinners, are never used in our products.

Ingredients

Our Blue Dream strain contains a unique fingerprint composition of cannabis oil and cannabis-derived terpenes. The cannabis concentrate is a composite blend of cannabinoids: tetrahydrocannabinol (THC), tetrahydrocannabinolic acid (THCA), and extremely low concentrations of cannabidiol (CBD), with the highest concentration of THC.

The terpenes in cannabis oil contribute to each strain's unique aroma, flavor and effect. They work in tandem with the cannabinoid content in each strain to enrich the vape experience, by imparting different psychoactive influences. They also have an entourage effect, which means they work synergistically with THC in the Blue Dream cannabis strain to produce a balanced versatility of soothing yet energetic effects.

Blue Dream Effects and Uses

Blue Dream strain effects include whole-body relaxation, cerebral stimulation, and improved energy levels.

The potent Blue Dream THC level keeps users feeling mentally refreshed and invigorated, while the cannabinoid ratio produces a balanced physical effect. Recreational users report that Blue Dream leaves their body feeling relaxed without experiencing a drowsy finish.

While some people use Blue Dream for sleep, most report it to be invigorating. The sensation of high spirits is beneficial for users who are going on a day hike, attending a long evening function, and participating in other energizing activities.
With its potent alpha-pinene properties, which can help reduce stress and increase focus, users report using Blue Dream to help with anxiety. It is also a popular concentration aid. Other reviews mention using Blue Dream for depression or PTSD, as limonene and linalool contribute to the Blue Dream's balanced calmness and mood-elevating effects.

Reviews from people using Blue Dream for pain comment that it helps them get relief from chronic pain. It is also used by women suffering from painful menstrual cramps and people enduring nausea or fatigue.

Testing Methodology

Kurvana's commitment to quality over everything is exemplified by its rigorous testing methodology. Kurvana consistently exceeds regulatory standards and ensures safety through its rigorous 7-phase testing methodology which is run on every batch of cannabis. The test screens cannabis products for microbes, mycotoxins, pesticides, heavy metals, foreign materials, residual solvents and vitamin E acetate before releasing them onto the market.

The purity of Kurvana products is confirmed at every stage of extraction and testing, both in-house and by third-party labs.
| Strain Name | Strain Type | Anxiety | Appetite | Creativity | Depression | Energy | Inflammation | Insomnia | Nausea | Pain | Relaxation | Stress |
| --- | --- | --- | --- | --- | --- | --- | --- | --- | --- | --- | --- | --- |
| Blackberry Kush | Indica | | | | | | | | | | | |
| Master OG | Indica | | | | | | | | | | | |
| True OG | Indica | | | | | | | | | | | |
| Grapefruit Kush | Hybrid | | | | | | | | | | | |
| G.S. Cookies | Hybrid | | | | | | | | | | | |
| Headband | Hybrid | | | | | | | | | | | |
| Blue Dream | Sativa | | | | | | | | | | | |
| Jack Herer | Sativa | | | | | | | | | | | |
| Lemon Haze | Sativa | | | | | | | | | | | |
| Pineapple Express | Sativa | | | | | | | | | | | |
| Sour Diesel | Sativa | | | | | | | | | | | |
*This guide is for informational purposes only. This information is neither a substitute for, nor does it replace, medical advice, diagnosis, or treatment. If you have any concerns or questions about your health, you should always consult with a physician or other healthcare professionals.