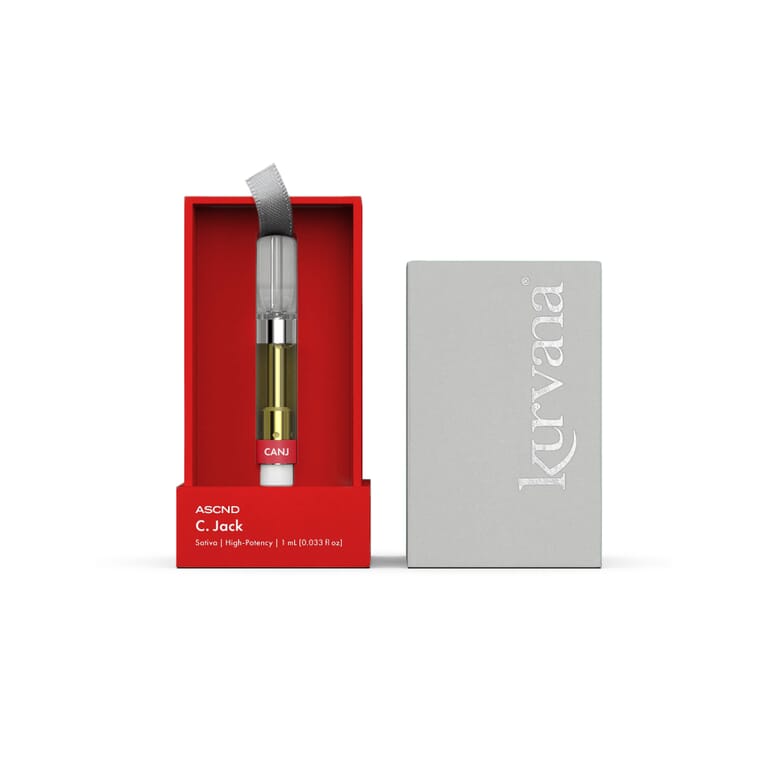 C. Jack
Sativa
Sweet, Citrus, Pine
An instantly recognizable and sharp aroma that establishes a classic sativa jolt.
Shop Delivery
Shop Locally
$40-65
(+applicable local and state taxes)
KurvanaScope
Unprecedented testing transparency. Learn more about this strain below:
Description

C Jack, tis famous for its sweet Jack-Skunk flavor and for winning the Cannabis Cup in 2013. C Jack is a hybrid cannabis that has been around for quite some time and has gained popularity in recent years. This is because the C Jack strain has been specially bred to increase the THC content to make it more potent.

C-Jack's parent strains are a cross between the sativa dominant Jack Herer strain and the hybrid Skunk #1 strain. Jack Herer is responsible for creativity and focus, while Skunk #1 accounts for the sweet smell. The result is a jack-skunk strain that energizes rather than sedates, making it great for morning use.

The sterling reputation of the Jack Herer strain genetics has made our ASCND C Jack among the most sought-after cannabis cartridges available. C Jack is a favorite for recreational smokers because it boosts mood, stimulates creativity, and produces euphoria. The C Jack sativa-leaning hybrid delivers its psychoactive effects immediately to elevate your cannabis experience.

Kurvana's C Jack is available in 0.5 mL and 1 mL cartridges, which you can purchase online or through our trusted retail partners. The C Jack strain price ranges from $40 to $65 and is part of our ASCND line, which offers maximized THC levels in every vape.

Potency

Total Cannabinoids

96.95%

Total THC

92.19%

Total CBD

<0.20%

*Potencies vary by batch.

Primary Terpenes

The primary terpenes contained in the C Jack strain are terpinolene, beta-pinene, beta-caryophyllene, limonene, and beta-myrcene. Each of these terpenes impacts the effect of THC in our C Jack cartridges, as elaborated below.
Terpinolene: Reduces stress, and produces uplifting effects. It relaxes the body and may help with certain sleep disorders. It is found naturally in rosemary, lilac, and nutmeg.

Beta-pinene: This terpene increases mental alertness and improves cognitive function. It is said to have an anti-inflammatory and pain-relieving effect. It is found naturally in pine, cedar, and basil.

Beta-caryophyllene: This terpene is said to have anti-inflammatory effects, and some users claim that it provides pain relief and helps them manage their depression symptoms. It is found naturally in basil, black pepper, and oregano.

Limonene: Improves mood and helps to alleviate anxiety and depression. Found naturally in lemon, juniper, and peppermint, it is distinguishable by its citrusy flavor.

Beta-myrcene: It is known to provide pain relief and impart a soothing, calming effect. It is found naturally in hops, mango, and lemongrass.

Extraction

The purity of Kurvana cannabis oils is preserved through proprietary and unadulterated extraction methods.
Our extraction process excludes chemical solvents, thereby ensuring both purity and safety. The specific chemical profile of C Jack is extracted as-is, preserving the natural essence of the strain, and allowing vapers to experience the richness of our stimulating ASCND C Jack oil.

Additives commonly blended into other brands, such as vitamin E acetate, propylene glycol, vegetable glycerin, artificial flavoring, synthetic terpenes, fillers, and thinners, are never used in any Kurvana products.

Ingredients

The C Jack strain contains a unique fingerprint composition of cannabis oil and cannabis-derived terpenes. The cannabis concentrate is a composite blend of cannabinoids: tetrahydrocannabinol (THC), and extremely low concentrations of cannabidiol (CBD), with a predominating THC content.
The terpenes in cannabis oil contribute to each strain's unique aroma, flavor and effects. They work in tandem with the cannabinoid content in each strain to enrich the vape experience, by imparting different psychoactive influences. They also have an entourage effect, which means they work synergistically with THC in the Jack Herer x Skunk #1 hybrid to produce the desired euphoric and creative effects.

C Jack Effects and Uses

C Jack has a recognizable aroma that establishes a classic sativa jolt, making it a preferable option for morning consumption. The psychoactive effects from this Skunk x Jack Herer cartridge are mainly cerebral, providing a great boost of energy and creativity.

C Jack strain reviews typically comment on the earthy sweet flavor of the strain, as well as the instant energy, focus, and rewarding mental boost it offers. It is a favorite among recreational users, who enjoy its uplifting effects.

In addition to the energizing influence it has on the mind, C Jack has a reputation as the best skunk strain for physical effects, making it a widely sought-after cannabis strain. It is popular among consumers who believe it eases their chronic inflammatory pain such as arthritis and other joint disorders. Other purported C Jack strain effects on the mind and body include relieving chronic fatigue, depression, and brain fog. Some say it's perfect for pre-exercise use, or even a long, meditative walk.

Testing Methodology

Kurvana's commitment to quality over everything is exemplified by its rigorous testing methodology. Kurvana consistently exceeds regulatory standards and ensures safety through its rigorous 7-phase testing methodology, which is run on every batch of cannabis. The test screens cannabis products for microbes, mycotoxins, pesticides, heavy metals, foreign materials, residual solvents and vitamin E acetate before releasing them onto the market. The purity of Kurvana products is confirmed at every stage of extraction and testing, both in-house and by third-party labs.

Our products NEVER use any fillers or additives. The ONLY ingredients that are found in our vaporizer pens are natural, full-spectrum cannabis oil and cannabis-derived terpenes.

You can now also find full test results and much more by scanning the LUCID ID QR code on the back of our packaging.