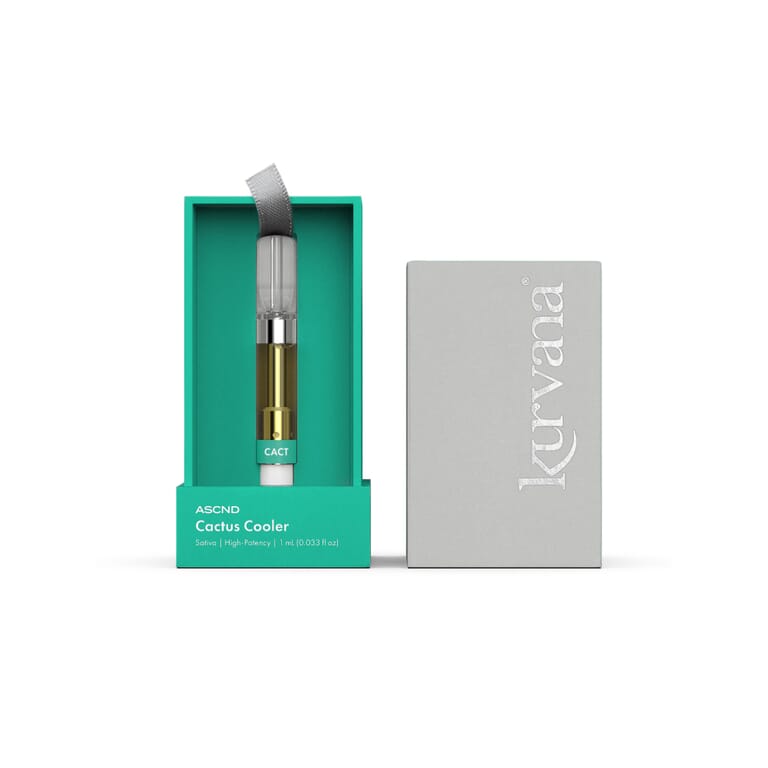 Cactus Cooler
Sativa
Earthy, Orange, Citrus
Invigorating desert fruit flavors meld with a heady kush aftertaste.
Shop Delivery
Shop Locally
$40-$65
(+applicable local and state taxes)
KurvanaScope
Unprecedented testing transparency. Learn more about this strain below:
Description

Kurvana's Cactus Cooler cartridge is a premium cannabis oil cartridge named after the popular Cactus Cooler strain. This hybrid strain is known for its balanced effects, including a euphoric and uplifting high with a relaxing body buzz, making it a popular choice among cannabis enthusiasts.

Many Cactus Cooler strain reviews highlight its deliciously fruity flavor profile and potent effects, which Kurvana has expertly captured in this cannabis oil cartridge. The Kurvana Cactus Cooler cartridge contains a high-quality, full-spectrum cannabis oil that is extracted using a proprietary process, ensuring a clean and pure product. The cartridge is pre-filled with the natural terpenes preserved during extraction to create a deliciously sweet and tangy flavor that perfectly captures the essence of the Cactus Cooler strain.

Users can expect to experience characteristic Cactus Cooler strain effects, including a euphoric and uplifting high with a relaxing body feeling when using Kurvana's Cactus Cooler cartridge. Whether you're a fan of the strain or just looking for a high-quality cannabis oil cartridge, the Kurvana Cactus Cooler is definitely worth trying.

Potency

Total Cannabinoids

93.49%

Total THC

90.19%

Total CBD

<0.20%

*Potencies vary by batch.

Primary Terpenes

Extraction

Throughout each step in our proprietary process, we make it our mission to preserve each plant's phytochemical fingerprint, which are essential to our oil's true-to-strain taste. We do not add artificial flavorings, glycols, or thinners because they distract from the plant's original essence. In other words, our oil tastes natural because it is.

Ingredients

Cannabis oil and cannabis-derived terpenes

Testing Methodology

All Kurvana products are lab tested multiple times throughout the production process including a final state mandated compliance test which undergoes 7 phases of testing for: Microbials, Mycotoxins, Pesticides, Cannabinoids, Heavy Metals, Foreign Materials and Residual Solvents.