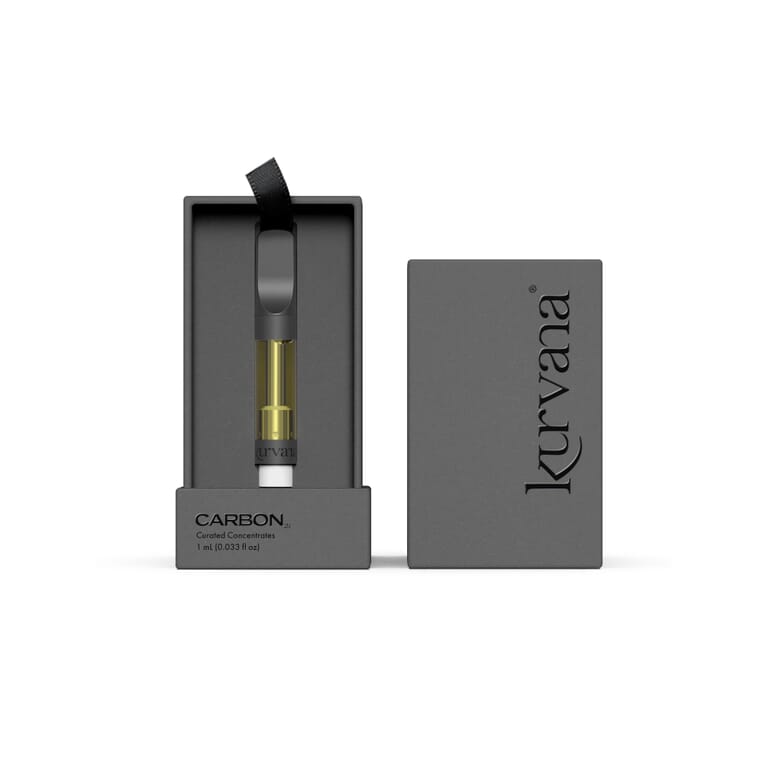 Do-Si-Dos Sauce
Indica
Pungent, Sweet, Earthy
This pungent pairing is comprised of its classic OG genetics, which offers a potent yet smooth onset, leaving you in dreamy, euphoric bliss.
Genetics
OG Kush Breath
Face Off OG
Shop Delivery
Shop Locally
$49-$78
(+applicable local and state taxes)
KurvanaScope
Unprecedented testing transparency. Learn more about this strain below:
Description

Do-Si-Dos, from the Kurvana premium CARBON21 vape line, is an intense indica dominant hybrid strain with high tetrahydrocannabinol (THC) levels. It entered the cannabis market in 2016 and has since soared in popularity. Known for its pungent, sweet, and earthy flavors, Do-Si-Dos Sauce is a prime favorite among cannabis users seeking a calming, relaxing experience.

Do-Si-Dos is a hybrid of OG Kush Breath and the Face Off OG strain, both popular for their physical effects that transport the user into a state of elevated euphoria and bliss. Consumers will enjoy the soothing onset of tranquility that Do-Si-Dos brings. Composed of classic OG indica strain genetics, the sedative properties of Do-Si-Dos may help alleviate symptoms of fatigue, depression, and anxiety.

The Kurvana Carbon21 vape line includes sleek Do-Si-Dos indica cartridges, ideal for on-the-go recreational users looking for a powerfully relaxing and convenient product. The Kurvana Do-Si-Dos cartridge price ranges from $49-$78, while the All-In-One pre-filled vape pen is priced at $52.

Do-Si-Dos cartridge reviews comment on the incredibly smooth vaping experience that ensures efficient airflow, strong aroma, excellent taste, and potent effects, ultimately resulting in great overall value.

Potency

Total Cannabinoids

90.32%

Total THC

84.07%

THCa

14.37%

Total CBD

0.43%

*Potencies vary by batch.

Primary Terpenes

The primary terpene profile of Do-Si-Dos indica comprises beta-caryophyllene, limonene, beta-myrcene, linalool, and alpha-humulene. Each of these terpenes has a unique impact on the Do-Si-Dos cannabis strain, as elaborated below.

Beta-caryophyllene: This terpene is said to have anti-inflammatory effects, and some users claim that it provides pain relief and helps them manage their depression symptoms. It is also found naturally in basil, black pepper, and oregano.

Limonene: Improves mood and helps to alleviate anxiety and depression. Found naturally in lemon, juniper, and peppermint, it is distinguishable by its citrusy flavor.

Beta-myrcene: It is known to provide pain relief and impart a soothing, calming effect. It is found naturally in hops, mango, and lemongrass.

Linalool: Commonly associated with essential oils used in aromatherapy like lavender, this terpene is known to alleviate stress, while promoting sensations of calm and relaxation.

Alpha-humulene: This is known as an anti-inflammatory terpene. Some users report that strains with this terpene have suppressed appetite. It is also found in the popular herbal medicine ginseng, which many believe enhances energy levels, as well as cloves and sage.

Extraction

The purity of Kurvana cannabis oils is preserved through proprietary and unadulterated extraction methods.

The Carbon21 extraction line produces batches of cannabis oil concentrates that are curated by employing sub-zero temperatures and strain-dependent techniques to help control consistency and viscosity throughout the extraction process, allowing cannabinoid compounds to crystallize. The result is a terpene-rich raw cannabinoid THC sauce that is ready to be enjoyed using our vaporizers.

Additives commonly blended into other brands, such as vitamin E acetate, propylene glycol, vegetable glycerin, artificial flavoring, synthetic terpenes, fillers, and thinners, are never used in our products.

Ingredients

Do-Si-Dos Sauce contains a unique fingerprint composition of one ingredient: cannabis concentrate. The cannabis concentrate is a blend of cannabinoids: tetrahydrocannabinol (THC), tetrahydrocannabinolic acid (THCa), and extremely low concentrations of cannabidiol (CBD).

The terpenes in cannabis concentrate contribute to each strain's unique aroma, flavor, and effect. They work in tandem with the cannabinoid content in each strain to enrich the vape experience by imparting different psychoactive properties. Terpenes have an 'entourage effect', which means they work synergistically with the powerful Do-Si-Dos strain THC level to enhance a euphoric and dreamy state of bliss.

Do-Si-Dos effects and uses

Do-Si-Dos is a potent relaxant, popular among users looking for a pleasant and calming euphoria that can be felt within a few minutes of smoking or vaping. The high THC levels provide long-lasting psychological effects that extend into a head-to-toe experience of physical relaxation. Due to its potency and euphoric properties, THC sauce made from this unique hybrid strain is popular with users who suffer from insomnia, chronic pain, anxiety, depression, and stress.

Do-Si-Dos strain reviews corroborate the tangible physical experiences associated with smoking or vaping this indica dominant hybrid, which include a warm, soothing, and tingling sensation that envelops the entire body with an elevated state of bliss.

Some users note that the full plethora of Do-Si-Dos strain effects include uplifting and mood-elevating sensations that many users find conducive to creative thinking that is free from mental agitation or stress.

Testing Methodology

Kurvana's commitment to quality over everything is exemplified by its superior testing process. Kurvana consistently exceeds regulatory standards and ensures safety through its rigorous 7-phase testing methodology, which is run on every batch of cannabis oil. These intensive tests screen all of our cannabis products for microbes, mycotoxins, pesticides, heavy metals, foreign materials, residual solvents, and vitamin E acetate before releasing them onto the market. The purity of Kurvana products is confirmed at every stage of extraction and testing, both in-house and by third-party labs.