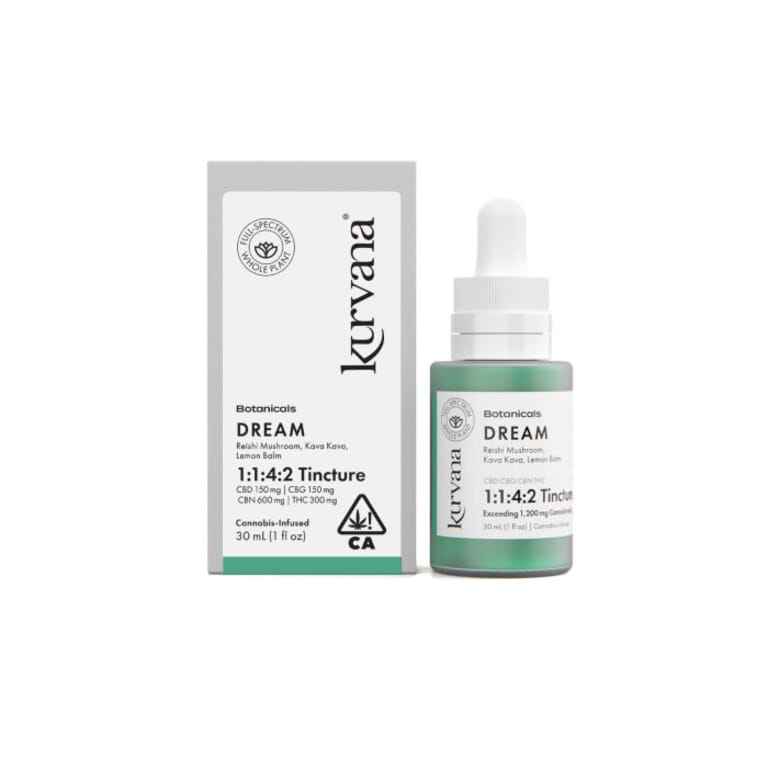 Dream 1:1:4:2
An exotic tincture aimed to promote a healthy sleeping pattern with its inducing sense of tranquility, guiding you into a calming state of peaceful nirvana.
Bioactive Ingredients
Reishi Mushroom
Kava Kava
Lemon Balm
Shop Delivery
Shop Locally
$99
(+applicable local and state taxes)
KurvanaScope
Unprecedented testing transparency. Learn more about this product below:
Description

Kurvana's Dream 1:1:4:2 tincture is a carefully balanced premium cannabis oil blend that is crafted to help you drift off to dream. This calming tincture features bioactive Reishi mushroom, Kava Kava and lemon balm in a soothing combination of cannabinoids that promote sleep and tranquility. 

Our Dream tincture is one part CBD, one part CBG, four parts CBN and one part THC. While you will notice the presence of THC's psychoactive properties, they are buffered by the other cannabinoids in this blend, so they never overpower.

Potency per 30 mL

Total Cannabinoids

1,200.00 mg

Total CBD

150.00 mg

Total CBG

150.00 mg

Total CBN

600.00 mg

Total THC

300.00 mg

*Potencies vary by batch.

Single Serving Information

CBD

2.5 mg/serv.

CBG

2.5 mg/serv.

CBN

10 mg/serv.

THC

5 mg/serv.

Total Cannabinoids

20.00 mg/serv.

60 servings per bottle when dosed in 0.5 mL portions.

Bioactive Ingredients

CBN (Cannabinol) 600 mg per bottle/10 mg per serving*: CBN is a cannabinoid that is similar to THC without its strong psychoactive properties. 

THC (Tetrahydrocannabinol) 300 mg per bottle/5 mg per serving*: THC is the main psychoactive ingredient in the

Cannabis sativa

plant. It is responsible for euphoric effects, stimulating appetite and calming anxiety.

CBD (Cannabidiol) 150 mg per bottle/2.5 mg per serving*: CBD is most often used for anxiety, stress, and pain. 

CBG (Cannabigerol) 150 mg per bottle/2.5 mg per serving*: CBG is antimicrobial, and may improve mood while reducing inflammation. 

Reishi Mushroom: May improve sleep, supports immune function. 

Kava Kava: Fights stress and eases tension. 

Lemon Balm: Promotes sleep, helps with stress and anxiety. 

Rhodiola: Helps the body adapt and fight stress. 

Passionflower: Calms the mind, relieves stress, relaxes the body.

MCT Oil: Enhances the bioavailability of the other ingredients, providing high absorption properties.

THC tincture dosage:Each bottle contains 60 servings when dosed in 0.5 mL portions. 

1200 mg total cannabinoids per bottle.  Potencies may vary by batch. 

Instructions

Place 0.5 mL under the tongue, holding it there 15 seconds before swallowing. Shake before use.

Ingredients

MCT oil (caprylic capric triglycerides), cannabis oil, reishi mushroom (ganoderma lucidum extract), kava kava (piper methysticum root extract), rhodiola (rhodiola rosea root extract), algae oil (dha algal oil), passionflower (passiflora edulis seed oil), lemon oil (citrus limon peel oil), lavender (lavandula angustifolia oil), blue tansy (tanacetum annuum (blue tansy) flower oil), monkfruit extract, lemon balm oil (melissa officinalis oil)

No artificial colors, dyes, or fillers.

Dream 1:1:4:2 Effects and Uses

CBD/THC tinctures like Kurvana's Dream blend offer a convenient way to consume cannabinoids without inhalation. Like any THC tincture, the bioactive ingredients will easily enter the bloodstream when taken sublingually, allowing a much faster absorption rate than edibles, which must be digested and then filter through the liver. This sublingual method is preferable to many cannabis enthusiasts who prefer a rapid onset of effects but choose not to smoke or vape. 

Kurvana's Dream tincture promotes quality sleep with adaptogenic botanicals, mushrooms and cannabinoids that give your body the stress support it needs. Instead of inducing sleep with sedatives, Dream tincture supports your natural sleep cycle with whole plant ingredients that will guide you into a state of rest. 

Testing Methodology

Our products are rigorously tested by independent, third-party laboratories, which allows us to screen for the presence of pesticides, heavy metals, solvents, and other contaminants at resolutions exceeding parts per billion. Our products NEVER use tocopheryl acetate (vitamin E acetate), propylene glycol, vegetable glycerin, artificial flavoring, synthetic terpenes, fillers, additives, or cutting agents in our vaporizer pens. 

We run up-to-date, full-panel analytical tests at multiple stages of the production process. From cultivation to extraction, we thoroughly analyze every Kurvana product through third-party labs, which post these results on their website. Using these rigorous quality assurance methods, we can guarantee that Kurvana products are free of solvents, microbials, additives, pesticides, and toxic chemicals. Please check out our blog for more information on our commitment to safety and quality.