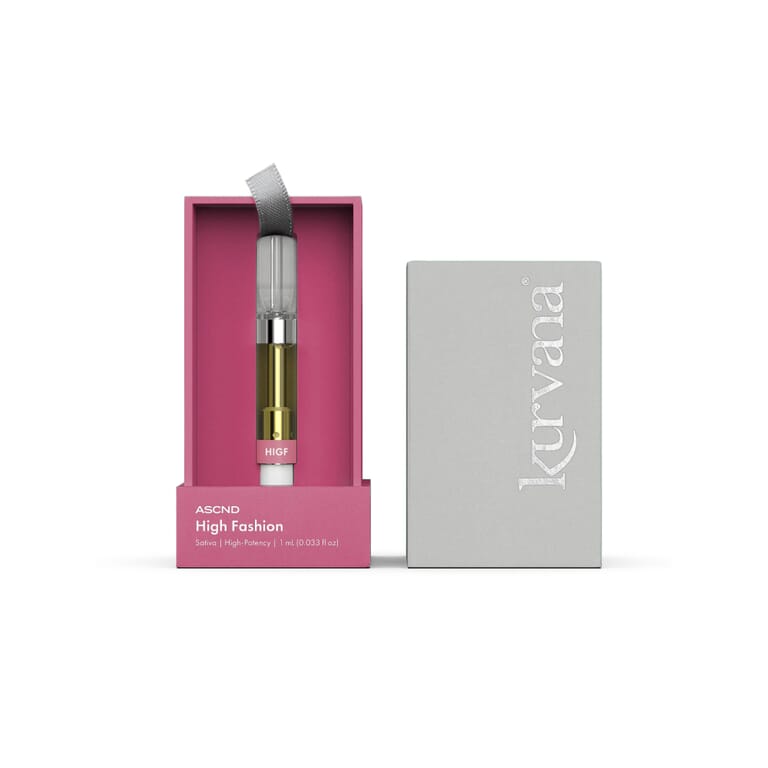 High Fashion
Sativa
Berry, Sweet, Tart
Sweet and effervescent notes of pink champagne, delivering a relaxed yet euphoric head change.
Genetics
Cherry Pie
Granddaddy Purple
Shop Delivery
Shop Locally
$40-$65
(+applicable local and state taxes)
KurvanaScope
Unprecedented testing transparency. Learn more about this strain below:
Description

Kurvana's  High Fashion sativa-dominant hybrid is obtained from a cross between the Cherry Pie strain and the Granddaddy Purple strain. It is a rare cannabis strain with sweet and effervescent notes of pink champagne and berries, and offers a cerebral, but mellow euphoria. 

High Fashion is considered to be one of the best sativa oil strains by cannabis connoisseurs, as it is high in cannabinoids and retains crucial bioactive terpenes and flavonoids. This sweet sativa has a calming effect that relaxes your body while it uplifts and stimulates your mind, producing feelings of happiness. It is perfect for those seeking heavy psychoactive effects, a pleasant berry aroma, and a taste profile that is reminiscent of sweet-tart berries with each inhalation. 

Our High Fashion cartridges come in 1.0 mL and 0.5 mL sizes, giving you options to choose exactly how much you need.  Alternatively, if you're looking for a disposable vape pen, sativa-rich High Fashion All-In-One is the perfect solution at your disposal. 

Kurvana is a leader in the production of high-potency, pure cannabis that exceeds safety regulations and consumer expectations, so when you buy cannabis oil online from a reliable Kurvana partner you know exactly what you're getting is a premium, safe, and reliable product. 

Potency

Total Cannabinoids

93.26%

Total THC

91.23%

Total CBD

<0.20%

*Potencies vary by batch.

Primary Terpenes

The primary terpenes contained in the High Fashion strain are beta-caryophyllene, alpha-humulene, beta-myrcene, limonene, and alpha-pinene. Each of these terpenes enhances the effects of THC in High Fashion in the following ways:

Beta-caryophyllene

: This terpene is said to have anti-inflammatory effects, and some users claim that it provides pain relief and helps them manage their depression symptoms. It is found naturally in basil, black pepper, and oregano.

Alpha-humulene

: This is known as an anti-inflammatory terpene. Some users report that strains with this terpene have suppressed appetite. It is also found in the popular herbal medicine ginseng, which many believe enhances energy levels, as well as cloves and sage.

Beta-myrcene

: It is known to provide pain relief and impart a soothing, calming effect. It is found naturally in hops, mango, and lemongrass.

Limonene

: Improves mood and helps to alleviate anxiety and depression. Found naturally in lemon, juniper, and peppermint, it is distinguishable by its citrusy flavor.

Alpha-pinene

: It boosts energy and improves focus. This terpene is also said to have anti-inflammatory effects. It is found naturally in conifers, sage, and parsley.

Extraction

The purity of Kurvana cannabis oils is preserved through proprietary and unadulterated extraction methods.

Our extraction process excludes all chemical solvents, thereby ensuring both purity and safety. The specific chemical profile of the High Fashion is extracted as-is, preserving the natural essence of the plant, and allowing vapers to experience the rich flavor and scent of this popular sativa strain.
Additives commonly blended into other brands, such as vitamin E acetate, propylene glycol, vegetable glycerin, artificial flavoring, synthetic terpenes, fillers, and thinners, are never used in any of our products.

Ingredients

High Fashion is a cross of Cherry Pie and Granddaddy Purple strains. This blend contains a unique fingerprint composition of cannabis oil and cannabis-derived terpenes. The cannabis concentrate is a composite blend of cannabinoids, including tetrahydrocannabinol (THC), and also contains extremely low concentrations of cannabidiol (CBD).

The terpenes in cannabis oil contribute to each strain's unique aroma, flavor and effects. They work in tandem with the cannabinoid content to enrich the vape experience by imparting the strain's unique characteristic flavor profile. They also have an entourage effect, which means they work synergistically with THC in the High Fashion sativa cartridge to produce different psychoactive properties.

High Fashion Effects and Uses

High Fashion ASCND vape contains a high concentration of THC, which stimulates pleasure receptors in the brain. This causes the brain to release dopamine, producing euphoric yet relaxed feelings. After inhaling the sativa vape, THC levels will peak in about 30 minutes, with effects wearing off from between 1 to 3 hours.

The uplifting nature of the High Fashion strain makes it a popular cannabis sativa oil among consumers experiencing chronic pain, such as migraines, nerve pain, and multiple sclerosis.

People who have experienced the High Fashion cartridge review its flavor profile as slightly sweet with hints of peppermint and cherry, and report feeling uplifted, creative, and happy. This one is excellent for seasoned cannabis users who'd like to explore new heights of psychological experience.

Testing Methodology

Kurvana's commitment to quality over everything is exemplified by its rigorous testing methodology. Kurvana consistently exceeds regulatory standards and ensures safety through its rigorous 7-phase testing methodology, which is run on every batch of cannabis. The test screens cannabis products for microbes, mycotoxins, pesticides, heavy metals, foreign materials, residual solvents and vitamin E acetate before releasing them onto the market. The purity of Kurvana products is confirmed at every stage of extraction and testing, both in-house and by third-party labs.

Our products NEVER use any fillers or additives. The ONLY ingredients that are found in our vaporizer pens are natural, full-spectrum cannabis oil and cannabis-derived natural terpenes.

You can now also find full test results and much more by scanning the LUCID ID QR code on the back of our packaging.