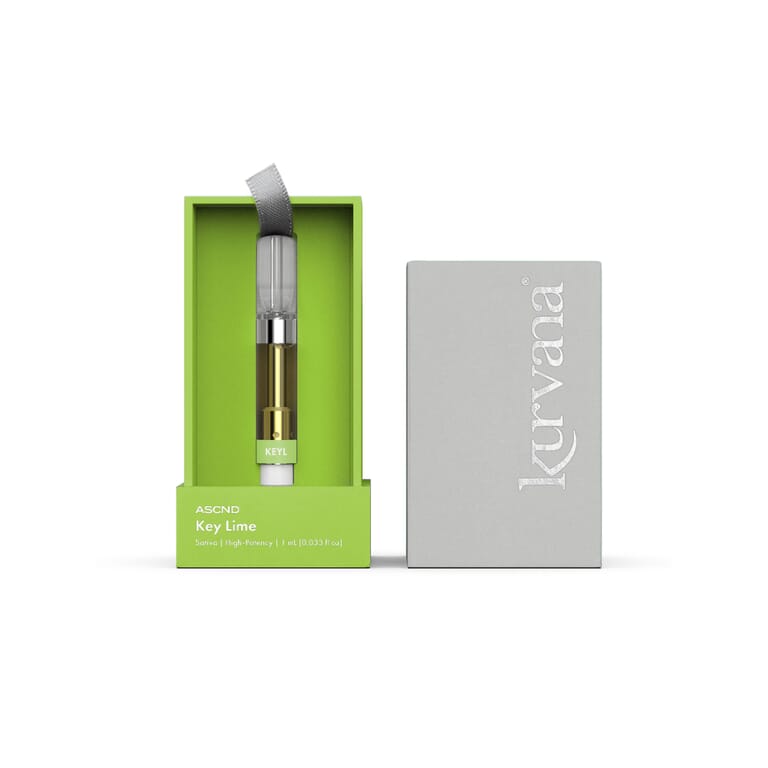 Key Lime
Sativa
Lime, Sweet, Pungent, ,
A mild lime flavor with both sweet and smoky aromas, enhance energy levels and uplift mood.
Shop Delivery
Shop Locally
$40-$65
(+applicable local and state taxes)
KurvanaScope
Unprecedented testing transparency. Learn more about this strain below:
Description

Kurvana's Key Lime strain is bursting with sweet key lime aromas and a delicious mild citrusy flavor profile. An uplifting and potent sativa, it is designed to elevate your mood and delight your palate, all while offering a blissful rush of creative energy that will make this THC vape cartridge your new go-to sativa pen. 

Key Lime expresses all of the OG characteristics of its powerhouse parents: OG Kush and Sour Diesel, two strains that are well renowned in the cannabis world. You'll get a hint of diesel and well balanced sour notes in this sativa cartridge from our ASCND line, with just enough bright, sweet key lime notes to please your palate. 

Our Key Lime cartridge is compatible with most 510 thread batteries, and this full-spectrum cannabis oil is also available as an All-In-One. 

Potency

Total Cannabinoids

96.62%

Total THC

92.76%

Total CBD

<0.20%

*Potencies vary by batch.

Primary Terpenes

Cannabis-derived terpenes are a critical component of the overall vape experience. Not only do they contribute to each strain's distinctive aroma, flavor, and effects, but they also work in tandem with the cannabinoid content. In addition to influencing the psychoactive properties of the strain, terpenes have an entourage effect, meaning they can interact with THC to generate a balanced blend of soothing and energetic effects. This synergy between terpenes and cannabinoids is part of what makes each strain so special and provides a truly unique experience.

Limonene – Terpene known for its strong citrus aroma, most notably of lemon. Limonene terpene effects are usually experienced as uplifting and stimulating. This refreshing terpene is also found in lemon, juniper, and peppermint. Limonene strains, or strains with limonene as their primary terpene, like Georgia Sky, are often associated with enhancing mental focus. 

Beta-caryophyllene – Terpene that creates spicy, peppery flavors and aromas in cannabis. Also found in basil, black pepper, and oregano. Beta-caryophyllene's effects are known to be anti-inflammatory. 

Beta-myrcene – Terpene known for its earthy, musky aroma and slightly spicy flavor profile. Also found in hops, thyme, and lemongrass, it is the most abundant terpene in all cannabis strains. 

Alpha bisabolol – Terpene purported to have anti-inflammatory, anti-nociceptive, and antibiotic effects, some users claim that it even has wound-healing properties. It has floral, sweet, and nutty flavors and is found naturally in chamomile, cannabis, and candeia trees. 

Alpha-humulene – Terpene found in beer hops and cannabis. Most famously known for giving beer its hoppy flavor, humulene is also thought to suppress the appetite and reduce stress.

Extraction

Kurvana is dedicated to providing its customers with the highest quality cannabis oil available. With our proprietary, whole-plant extraction method, we preserve and purify the essence of the cannabis plant. 

This method allows us to capture the entire spectrum of the plant's cannabinoids, phytochemicals, terpenes, and flavonoids. We take cannabis oil extraction seriously, which is why we use the whole, live plant to maintain the integrity of its phytochemical fingerprint. This is essential to preserving our oils' true-to-strain taste and aroma. 

Kurvana NEVER adds any artificial flavorings, glycols, or thinners because they distract from the plant's original essence. When you vape our cannabis oil, it tastes natural because it is.

Ingredients

Kurvana's Key Lime cannabis oil cartridge contains a unique fingerprint composition of cannabis oil and cannabis-derived terpenes. The cannabis concentrate is a composite blend of cannabinoids: tetrahydrocannabinol (THC) and extremely low concentrations of cannabidiol (CBD), with the highest concentration of THC.

Key Lime Effects and Uses

Key Lime is a sativa strain, and like most sativas it tends to have uplifting, cerebral effects on most end users. These effects tend to come on rapidly, depending on individual tolerance and metabolism. If you enjoy a good daytime sativa-dominant strains for creative projects, Key Lime won't disappoint. Its primary terpenes are Limonene and Beta-caryophyllene, which give this strain its mood-elevating characteristics and spicy and citrusy flavor profile. 

With a total THC content of 92.76%, Key Lime is a potent cannabis vape cartridge. Medical users appreciate the high THC level which is often associated with having a greater effect on pain and inflammation in the body.

Testing Methodology

All of our cannabis cartridges are rigorously tested by independent, third-party laboratories to ensure that we are able to screen for the presence of any pesticides, heavy metals, solvents, and other contaminants at resolutions that exceed parts per billion. We never use tocopheryl acetate (vitamin E acetate), propylene glycol, vegetable glycerin, artificial flavoring, synthetic terpenes, fillers, additives, or cutting agents in any of our products. We only use the purest, highest-quality ingredients sourced from the most reputable suppliers to ensure the safety and effectiveness of our products. 

Kurvana runs up-to-date, full-panel analytical tests at multiple stages of the production process. From cultivation to extraction, we thoroughly analyze every Kurvana product through third-party labs, which post these results on their website. Using these rigorous quality assurance methods, we can guarantee that Kurvana products are free of solvents, microbials, additives, pesticides, and toxic chemicals. Please check out our blog for more information on our commitment to safety and quality.
Average Rating:

4.0

out of

5

(

1

votes)
Great for work or play
Doesn't give you energy you notice gives you energy you use. Smooth and mellow and no worries for nodding off.
6 months ago