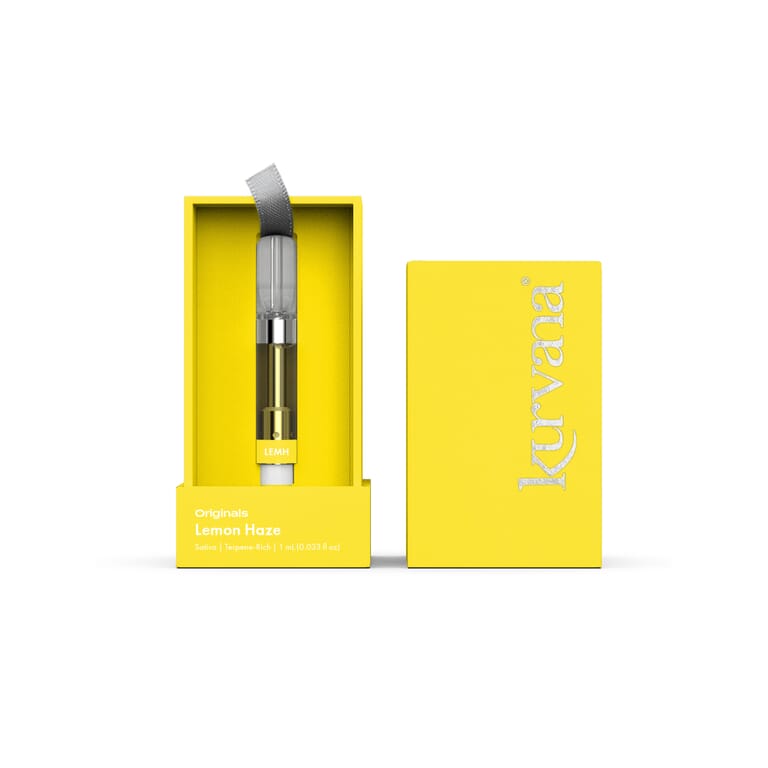 Lemon Haze
Sativa
Lemon, Sweet, Herbal
A burst of sweet, tangy lemon notes followed by a refreshing, herbal exhale, elevates your state of mind to a mellow, citrus-inspired euphoria.
Shop Delivery
Shop Locally
$35-$60
(+applicable local and state taxes)
KurvanaScope
Unprecedented testing transparency. Learn more about this strain below:
Description

Kurvana's Lemon Haze sativa vape offers an uplifting aroma of fresh lemon peel and a burst of sweet, tangy fruit at the moment of inhalation. The strong citrus aromatics are due to the relatively high concentrations of limonene, its predominant terpene.

The powerful impact of this sativa strain is owed to the parent genetics of the Lemon Haze strain: Sativa Silver Haze and Lemon Skunk, both popular for their fast onset and energizing cerebral effects. As the offspring of this cross, Lemon Haze (sometimes written as Lemonhaze), carries the best of its parents' characteristics.

The Lemon Haze cartridge contains 80.61% THC, making it a favorite for those who are seeking euphoria without feeling overwhelmed. The stimulating effects of Lemon Haze typically last for up to three hours before easing into a mellow state of repose. This strain is popular with seasoned cannabis consumers, particularly those living with depression.

Lemon Haze is available in a 0.5 mL or 1.0 mL cartridge for use in a vaporizer, or as a convenient 0.5 mL all-in-one Lemon Haze pen for discreet and portable enjoyment. You can buy Lemon Haze online through our website or from one of our retail partners, and prices range from $35 to $60. The best part about vaping is there is absolutely no smoke involved, making it ideal for indoor use (where permitted, of course!)

Potency

Total Cannabinoids

85.15%

Total THC

80.61%

Total CBD

0.44%

*Potencies vary by batch. Learn more here.

Primary Terpenes

The primary terpenes contained in Lemon Haze cannabis oil are beta-myrcene, beta-caryophyllene, alpha-humulene, terpinolene, and limonene. Each of these terpenes impacts the effect of THC in the Lemon Haze, as elaborated below.

Limonene: Improves mood and helps to alleviate anxiety and depression. Found naturally in lemon, juniper, and peppermint, it is distinguishable by its citrusy flavor.

Beta-myrcene: It is known to provide pain relief and impart a soothing, calming effect. It is found naturally in hops, mango, and lemongrass.

Beta-caryophyllene: This terpene is said to have anti-inflammatory effects, and some users claim that it provides pain relief and helps them manage their depression symptoms. It is found naturally in basil, black pepper, and oregano.

Alpha-humulene: This is known as an anti-inflammatory terpene. Some users report that strains with this terpene have suppressed appetite. It is also found in the popular herbal medicine ginseng, which many believe enhances energy levels, as well as cloves and sage.

Terpinolene: Reduces stress, and produces uplifting effects. It relaxes the body and may help with certain sleep disorders. It is found naturally in rosemary, lilac, and nutmeg.

Extraction

The purity of Kurvana cannabis oils is preserved through proprietary and unadulterated extraction methods.

Our extraction process excludes all chemical solvents, thereby ensuring both purity and safety. The specific chemical profile of Lemon Haze sativa is extracted as-is, preserving the natural essence of the strain, and allowing consumers to experience the richness of this refreshing cannabis.

Additives such as vitamin E acetate, propylene glycol, vegetable glycerin, artificial flavorings, synthetic terpenes, fillers, and thinners, are never present in any Kurvana oils, concentrates, or tinctures. We never allow anything in our products that doesn't meet our exceptional standards for purity.

Ingredients

Lemon Haze contains a unique fingerprint composition of cannabis oil containing strain-specific terpenes derived from the whole plant. The cannabis concentrate is a composite blend of cannabinoids: tetrahydrocannabinol (THC), and extremely low concentrations of cannabidiol (CBD), with a predominating THC content.

The terpenes in cannabis oil contribute to each strain's unique aroma, flavor, and effect. They work in tandem with the cannabinoid content in the plant, which enriches the vape experience by imparting different psychoactive influences. They also have an entourage effect, which means they work synergistically with THC in the Lemon Haze vape to produce an energized, uplifting state of euphoria.

Lemon Haze effects and uses

A refreshing, mood-boosting lemon THC cartridge from our Originals range, the initial impressions of this sativa favorite is sweet citrus, followed by a light herbal exhale. The cannabinoids in this classic flower strain work quickly to elevate the mind to a mellow euphoria while keeping you grounded and focused. Perfect for working on a project, or listening to music while your imagination wanders.

Cannabis users enjoy the uplifting inspiration that this strain's Silver Haze parentage offers. Some report Lemon Haze effects include clarity of thought and relief from emotional pain. The cerebral effects lead to lively conversations and also stimulate creativity in artists, writers, and daydreamers.

Even though the Lemon Haze CBD content is low, it is still popular among people living with stress, depression, and anxiety, as evidenced by Lemon Haze strain reviews. Some reviewers say they have used Lemon Haze for managing back pain and muscle spasms. Many recommend it for daytime use, and when enjoying time with friends.

Testing Methodology

Kurvana's commitment to quality over everything is exemplified by our rigorous testing methodology. We consistently exceed regulatory standards and ensure consumer safety through our rigorous 7-phase testing methodology. These tests screen cannabis products for microbes, mycotoxins, pesticides, heavy metals, foreign materials, residual solvents and vitamin E acetate before releasing them onto the market. The purity of Kurvana products is confirmed at every stage of extraction and testing, both in-house and by third-party labs.

Our products NEVER use any fillers or additives. The ONLY ingredients that are found in our vaporizer pens are natural, full-spectrum cannabis oil and cannabis-derived terpenes.

You can now also find full test results and much more by scanning the LUCID ID QR code on the back of our packaging.
| Strain Name | Strain Type | Anxiety | Appetite | Creativity | Depression | Energy | Inflammation | Insomnia | Nausea | Pain | Relaxation | Stress |
| --- | --- | --- | --- | --- | --- | --- | --- | --- | --- | --- | --- | --- |
| Blackberry Kush | Indica | | | | | | | | | | | |
| Master OG | Indica | | | | | | | | | | | |
| True OG | Indica | | | | | | | | | | | |
| Grapefruit Kush | Hybrid | | | | | | | | | | | |
| G.S. Cookies | Hybrid | | | | | | | | | | | |
| Headband | Hybrid | | | | | | | | | | | |
| Blue Dream | Sativa | | | | | | | | | | | |
| Jack Herer | Sativa | | | | | | | | | | | |
| Lemon Haze | Sativa | | | | | | | | | | | |
| Pineapple Express | Sativa | | | | | | | | | | | |
| Sour Diesel | Sativa | | | | | | | | | | | |
*This guide is for informational purposes only. This information is neither a substitute for, nor does it replace, medical advice, diagnosis, or treatment. If you have any concerns or questions about your health, you should always consult with a physician or other healthcare professionals.