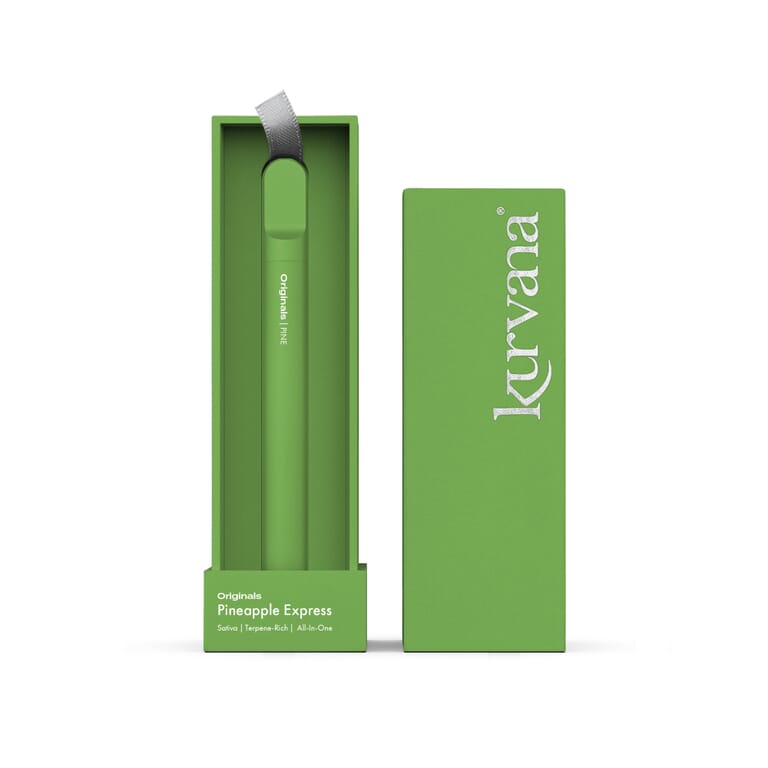 Pineapple Express All-In-One
Sativa
Pine, Sweet, Tropical
A fusion of tropical fruits and subtle earthy pine notes promote peak productivity upon exhale.
Shop Delivery
Shop Locally
$38
(+applicable local and state taxes)
KurvanaScope
Unprecedented testing transparency. Learn more about this strain below:
Description

Luscious pineapple, mellow earth, and sharp, woody pine combine to take your tastebuds on the best flavor express train ride of their lives. No ticket required. 

Kurvana's All-In-One Pineapple Express vape is part of our Originals line of full-spectrum cannabis oil products. It is a terpene-rich extract that preserves the integrity of the original flower, which means all of the flavor and aromatics are intact. Each draw of Pineapple Express will reward you with the unique taste and aroma of tropical fruit and pine that fans of this strain know and love. 

The original Pineapple Express strain is a sativa hybrid that was made by crossing Trainwreck and Hawaiin. It has become a staple in most dispensaries, especially in California. Its popularity is owed in part to the 2008 film title bearing the same name, but this legendary sativa doesn't need the silver screen to prove its worth. It remains a top choice for cannabis enthusiasts nationwide, and that is due to its outstanding flavor and effects. It is one of the top sativas for potency, taste, and long-lasting effects. 

Pineapple Express All-In-One vape is ready to use with no additional battery or charging required.

Potency

Total Cannabinoids

85.65%

Total THC

80.08%

Total CBD

0.45%

*Potencies vary by batch. Learn more here.

Primary Terpenes

Cannabis-derived terpenes are a critical component of the overall vape experience. Not only do they contribute to each strain's distinctive aroma, flavor, and effects, but they also work in tandem with the cannabinoid content. In addition to influencing the psychoactive properties of the strain, terpenes have an entourage effect, meaning they can interact with THC to generate a balanced blend of soothing and energetic effects. This synergy between terpenes and cannabinoids is part of what makes each strain so special and provides a truly unique experience.

Limonene – Terpene known for its strong citrus aroma, most notably of lemon. Limonene terpene effects are usually experienced as uplifting and stimulating. This refreshing terpene is also found in lemon, juniper, and peppermint. 

Beta-caryophyllene –  Terpene that creates spicy, peppery flavors and aromas in cannabis. Also found in basil, black pepper, and oregano. 

Terpinolene – Terpene that's great for calming the senses and balancing mood. Known for its sedative effects, it is often used as a sleep aid and has a sweet, woody aroma. Terpinolene terpene effects include drowsiness, so it may be useful as a sleep aid. 

Beta-myrcene – Terpene known for its earthy, musky aroma and slightly spicy flavor profile. Also found in hops, thyme, and lemongrass, it is the most abundant terpene in all cannabis strains. 

Beta-pinene – Terpene that is nearly identical to alpha-pinene, with a similar aroma of pine trees.  Beta-pinene terpene effects are known for rewarding the end user with mental focus and clarity, and early research suggests it may even be antimicrobial. 

Extraction

Kurvana is dedicated to providing its customers with the highest quality cannabis oil available. Our unique proprietary method uses a full-spectrum, whole-plant extraction process that focuses on preserving and purifying the essence of the cannabis plant. This method allows us to capture the entire spectrum of the plant's phytochemicals, including terpenes, flavonoids, and cannabinoids. We use the whole, live plant to maintain the integrity of its phytochemical fingerprint, which is essential to our oils' true-to-strain taste and aroma. 

Unlike many flavored THC cartridges available today, we do not add artificial flavorings, glycols, or thinners because they distract from the plant's original essence. In other words, our oil tastes natural because it is. 

Ingredients

Kurvana's Pineapple Express All-In-One contains a unique fingerprint composition of cannabis oil and cannabis-derived terpenes. The cannabis concentrate is a composite blend of cannabinoids: tetrahydrocannabinol (THC) and extremely low concentrations of cannabidiol (CBD), with the highest concentration of THC.

Pineapple Express All In One Effects and Uses

Known for its long-lasting effects, Pineapple Express is also the best sativa for rapid onset. Although it does tend to take effect quickly, it promotes clarity of mind that keeps the end user alert, but not overwhelmed. Overall, Pineapple Express strain effects are uplifting, cerebral, creative, and physically calming. It is a great hybrid option for daytime due to its energetic nature, but can easily be enjoyed in the evening. 

Some medical users use the Pineapple Express sativa vape to fight off fatigue and to treat symptoms of anxiety and depression. Its uplifting qualities can be attributed to its primary terpene, limonene.

Testing Methodology

All of our cannabis cartridges are rigorously tested by independent, third-party laboratories to ensure that we are able to screen for the presence of any pesticides, heavy metals, solvents, and other contaminants at resolutions that exceed parts per billion. We never use tocopheryl acetate (vitamin E acetate), propylene glycol, vegetable glycerin, artificial flavoring, synthetic terpenes, fillers, additives, or cutting agents in any of our products. We only use the purest, highest-quality ingredients sourced from the most reputable suppliers to ensure the safety and effectiveness of our products. 

Kurvana runs up-to-date, full-panel analytical tests at multiple stages of the production process. From cultivation to extraction, we thoroughly analyze every Kurvana product through third-party labs, which post these results on their website. Using these rigorous quality assurance methods, we can guarantee that Kurvana products are free of solvents, microbials, additives, pesticides, and toxic chemicals. Please check out our blog for more information on our commitment to safety and quality. 

Specifications

Our ready to use All-In-One is back and better than ever. Known for its patented signature look, precise delivery, and compact design, we've made significant updates to deliver breakthrough performance with ultra portability.

01. All-In-One
Ready to use device

02. Compact Design
Delivers precise flavor profiles

03. Color Coded
Strain-specific colors and branding

04. Pre-filled
True 0.5 mL extract

05. Short-Path Airflow
Delivers vapor quicker and more efficiently

06. CTEC 2.0
Ceramic heating element designed for Originals' terpene-rich oils

07. Long Lasting
380 mAh battery, up to 100 draws

08. Premium Finish
Durable soft-touch coating
| Strain Name | Strain Type | Anxiety | Appetite | Creativity | Depression | Energy | Inflammation | Insomnia | Nausea | Pain | Relaxation | Stress |
| --- | --- | --- | --- | --- | --- | --- | --- | --- | --- | --- | --- | --- |
| Blackberry Kush | Indica | | | | | | | | | | | |
| Master OG | Indica | | | | | | | | | | | |
| True OG | Indica | | | | | | | | | | | |
| Grapefruit Kush | Hybrid | | | | | | | | | | | |
| G.S. Cookies | Hybrid | | | | | | | | | | | |
| Headband | Hybrid | | | | | | | | | | | |
| Blue Dream | Sativa | | | | | | | | | | | |
| Jack Herer | Sativa | | | | | | | | | | | |
| Lemon Haze | Sativa | | | | | | | | | | | |
| Pineapple Express | Sativa | | | | | | | | | | | |
| Sour Diesel | Sativa | | | | | | | | | | | |
*This guide is for informational purposes only. This information is neither a substitute for, nor does it replace, medical advice, diagnosis, or treatment. If you have any concerns or questions about your health, you should always consult with a physician or other healthcare professionals.