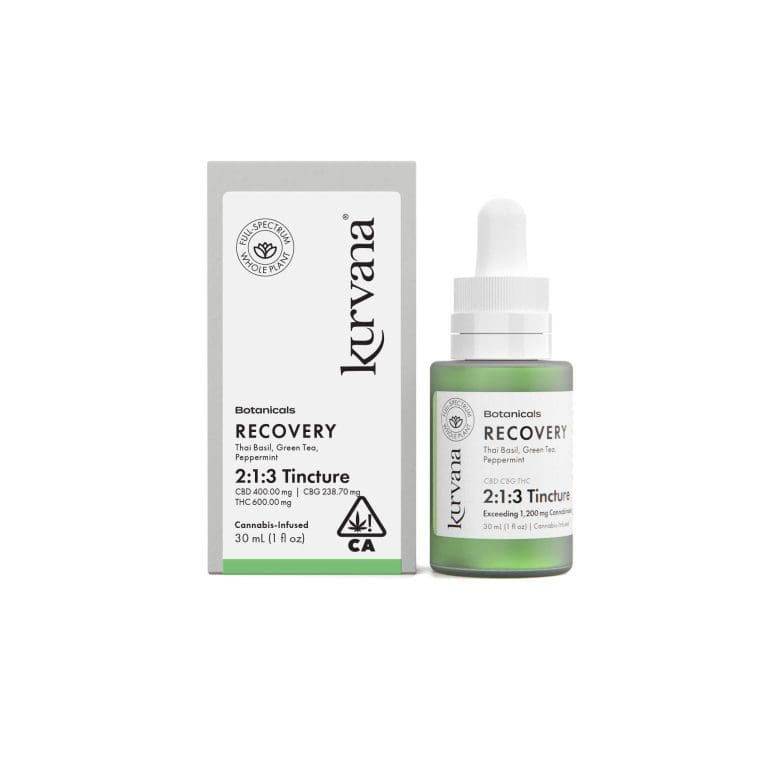 Recovery 2:1:3
A revitalizing boost for people who need it most. Using potent botanicals, our alcohol-free tincture works to sustain energy levels, support full-body recovery, and maximize senses.
Bioactive Ingredients
Thai Basil
Green Tea
Peppermint
Shop Delivery
Shop Locally
$75
(+applicable local and state taxes)
KurvanaScope
Unprecedented testing transparency. Learn more about this product below:
Potency per 30 mL

Total Cannabinoids

1,200.00 mg

Total CBD

400.00 mg

Total CBG

200.00 mg

Total THC

600.00 mg

*Potencies vary by batch.

Single Serving Information

CBD

6.67 mg/serv.

CBG

3.33 mg/serv.

THC

10.00 mg/serv.

Total Cannabinoids

20.00 mg/serv.

60 servings per bottle when dosed in 0.5 mL portions.

Bioactive Ingredients

C8 + C10 (Pure Organic MCT Oil)

Instructions

Place 0.5 mL under the tongue, holding it there 15 seconds before swallowing. Shake before use.

Ingredients

Organic C8 (caprylic acid), organic C10 (capric acid), cannabis oil, phytol, basil (ocimum basilicum), peppermint (mentha piperita), spearmint (ocimum basilicum), green tea seed oil (camellia sinensis seed oil), stevia (stevia rebaudiana), chlorophyll (sodium copper chlorophyllin)

Testing Methodology

All Kurvana products are lab tested multiple times throughout the production process including a final state mandated compliance test which undergoes 7 phases of testing for: Microbials, Mycotoxins, Pesticides, Cannabinoids, Heavy Metals, Foreign Materials and Residual Solvents.