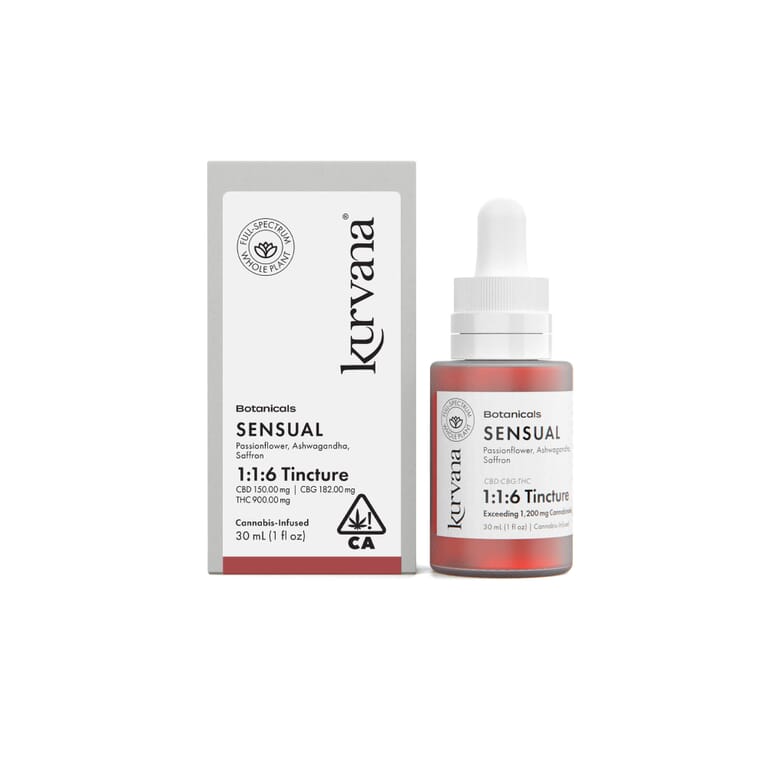 Sensual 1:1:6
A stimulating tincture for intimate moments—made with passionflower, ashwagandha, and saffron oil, this is designed to generate feelings of passion, warmth, and excitement to enhance sensuality.
Bioactive Ingredients
Passionflower
Ashwagandha
Saffron
Shop Delivery
Shop Locally
$75
(+applicable local and state taxes)
KurvanaScope
Unprecedented testing transparency. Learn more about this product below:
Description

Kurvana's Sensual tincture aims to revive your natural libido and elevate your mood while calming your nerves. This slightly spicy, invigorating cannabis oil and botanical blend is crafted for both female and male sensuality, inspiring intimate moments while giving your overall health a boost. 

Our Sensual 1:1:6 tincture is 1 part CBD, 1 part CBG to 6 parts THC. This perfect combination allows the THC to dominate without being overpowering. 

By combining key cannabinoids and botanicals in an MCT oil suspension, this sensually stimulating, yet calming tincture offers enhanced support for your libido in convenient, easy to use THC oil drops.

Potency per 30 mL

Total Cannabinoids

1,200.00 mg

Total CBD

150.00 mg

Total CBG

150.00 mg

Total THC

900.00 mg

*Potencies vary by batch.

Single Serving Information

CBD

2.50 mg/serv.

CBG

2.50 mg/serv.

THC

15.00 mg/serv.

Total Cannabinoids

20.00 mg/serv.

60 servings per bottle when dosed in 0.5 mL portions.

Bioactive Ingredients

THC (Tetrahydrocannabinol) 900 mg per bottle/2.50 mg per serving* : THC is the main psychoactive ingredient in the

Cannabis sativa

plant. It is responsible for euphoric effects, stimulating appetite and calming anxiety.

CBD (Cannabidiol) 150 mg per bottle/15.00 mg per serving* : CBD tinctures are most often used for anxiety, stress, and pain. 

CBG (Cannabigerol) 150 mg per bottle/15.00 mg per serving* : CBG is antimicrobial, and may improve mood while reducing inflammation. 

Passionflower: Calms the mind, relieves stress, relaxes the body.

Saffron: Boosts libido, uplifts mood.

Ashwagandha: Provides stress relief, may assist with cortisol management*.

Paprika oleoresin: Rich in antioxidants to offset free radicals from the environment. 

Rose petal geranium oil: encourages relaxation, may enhance circulation.

MCT Oil: Enhances the bioavailability of the other ingredients, providing high absorption properties.

THC tincture dosage: *Each bottle contains 60 servings when dosed in 0.5 mL portions. 

1200 mg total cannabinoids per bottle.  Potencies may vary by batch. 

Instructions

Place 0.5 mL under the tongue, holding it there 15 seconds before swallowing. Shake before use.

Ingredients

MCT oil (caprylic capric triglycerides), cannabis oil, ashwagandha (withania somnifera root extract), passion flower (indicum seed oil), paprika oleoresin (capsicum extract), saffron (crocus sativus threads in prunus amygdalus dulcis oil), rose petal geranium oil (pelargonium roseum oil), stevia (stevia rebaudiana)

No artificial colors, dyes, or fillers.

Sensual 1:1:6 Effects and Uses

THC/CBD tinctures like Kurvana's Sensual blend offer a convenient way to consume cannabinoids without inhalation. Like any THC tincture, the bioactive ingredients will easily enter the bloodstream when taken sublingually, allowing a much faster absorption rate than edibles, which must be digested and then filter through the liver. This sublingual method is preferable to many cannabis enthusiasts who prefer a rapid onset of effects but choose not to smoke or vape. 

Kurvana's Sensual 1:1:6 THC tincture benefits your general mood, boosts your natural libido, and inspires intimacy. The botanicals and spices contained in our Sensual tincture work together to combat stress and soothe your nerves while also uplifting your state of mind and arousing your body's inner vitality. 

Sensual tincture can be taken day or night according to your personal preference, and comes with the convenience of portability in a 30mL glass bottle with dropper. 

Testing Methodology

Our products are rigorously tested by independent, third-party laboratories, which allows us to screen for the presence of pesticides, heavy metals, solvents, and other contaminants at resolutions exceeding parts per billion. Our products NEVER use tocopheryl acetate (vitamin E acetate), propylene glycol, vegetable glycerin, artificial flavoring, synthetic terpenes, fillers, additives, or cutting agents in our vaporizer pens. 

We run up-to-date, full-panel analytical tests at multiple stages of the production process. From cultivation to extraction, we thoroughly analyze every Kurvana product through third-party labs, which post these results on their website. Using these rigorous quality assurance methods, we can guarantee that Kurvana products are free of solvents, microbials, additives, pesticides, and toxic chemicals. Please check out our blog for more information on our commitment to safety and quality.