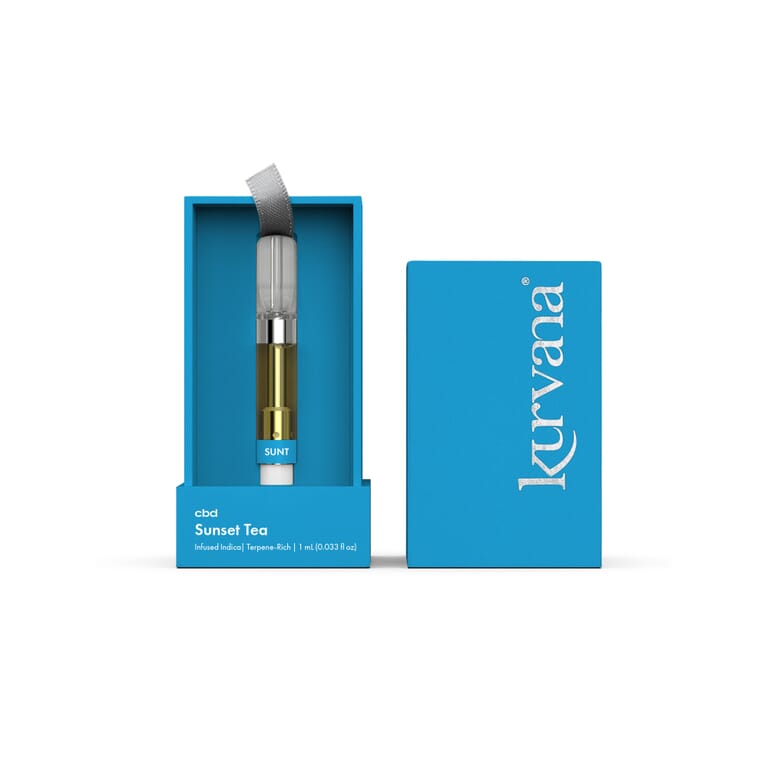 Sunset Tea 10:1:5
Infused Indica
Earthy, Floral, Herbal
A high-CBD blend reminiscent of fragrant lavender blossoms and chamomile for a soothing and calming impression.
Shop Delivery
Shop Locally
$35-$60
(+applicable local and state taxes)
KurvanaScope
Unprecedented testing transparency. Learn more about this strain below:
Description

Sunset Tea is a high CBD cannabis oil blend that is perfect for anyone seeking a low THC vaping experience. A CBD cartridge with THC, this blend has a ratio of 10:1:5 which is 50.51% CBD, 5.19% CBN, and 25.31% THC. With a floral, herbaceous scent reminiscent of lavender blossoms, this indica will calm your nerves and elevate your senses. 

Aromas of lavender and chamomile impart a sweet, herbal aftertaste on the palate as the scent of fresh flowers envelops you with each draw. This is a blend that is ideal for bedtime, or any time rest and recovery are needed. 

Kurvana's Sunset Tea cartridge is compatible with most standard 510 vape batteries. To customize your own CBD vape pen kit, you can purchase our cartridges and hardware separately. CBD oil cartridge refills are unnecessary, as all of our cannabis oil cartridges come pre-filled for convenience. Also available in an All-In-One option. 

Potency

Total Cannabinoids

85.58%

Total CBD

50.51%

Total CBN

5.19%

Total THC

25.31%

*Potencies vary by batch.

Primary Terpenes

Cannabis-derived terpenes contribute to each strain's unique aroma, flavor, and effects. They work in tandem with the cannabinoid content in each strain to enrich the vape experience, by imparting different psychoactive influences. They also have an entourage effect, which means they work synergistically with THC in the strain to produce a balanced versatility of soothing yet energetic effects.

Beta-caryophyllene –  Terpene that creates spicy, peppery flavors and aromas in cannabis. Also found in basil, black pepper, and oregano. Beta-caryophyllene benefits include being the only terpene that can directly bind to the human body's cannabinoid receptors. 

Linalool – Terpene known for its spicy, lavender aroma. Found abundantly in lavender, linalool terpene effects are most often associated with stress reduction and sleep promotion. Linalool is also found in basil and numerous other plants and spices. 

Beta-myrcene – Terpene known for its earthy, musky aroma and slightly spicy flavor profile. Also found in hops, thyme, and lemongrass, it is the most abundant terpene in all cannabis strains. 

Alpha-humulene – Terpene found in beer hops and cannabis. Most famously known for giving beer its hoppy flavor, humulene is also thought to suppress the appetite and reduce stress. 

Camphor – Terpene known for its minty flavor and aroma. Often used in natural cough and cold remedies, it has been purported to have decongestant properties. Its presence in cannabis is known to help with mental focus. Also found in rosemary and laurel leaves. 

Extraction

Kurvana's unique proprietary method uses a full-spectrum, whole-plant extraction process that focuses on preserving and purifying the essence of the cannabis plant. We use the whole, live plant to maintain the integrity of its phytochemical fingerprint, which is essential to our oils' true-to-strain taste and aroma.  

We do not add artificial flavorings, glycols, or thinners because they distract from the plant's original essence. In other words, our oil tastes natural because it is. 

Ingredients

Kurvana's Sunset Tea cartridge contains a unique fingerprint composition of cannabis oil and cannabis-derived terpenes. The composite blend of cannabinoids includes cannabidiol (CBD), cannabinol (CBN), and tetrahydrocannabinol (THC) in a 10:1:5 ratio. 

Effects and Uses

The best CBD cartridge is the one that works best for you and your body's own unique chemistry. If you enjoy the effects of CBD combined with a low amount of THC, Sunset Tea may be the perfect fit. 

The very low amount of CBN (cannabinol) in this unique blend contributes mild psychoactive properties, while CBD (cannabidiol) is non-psychoactive. This leaves only the THC as a psychoactive cannabinoid in this strain, so you won't feel overpowered. Sunset Tea is also an excellent choice for people new to cannabis, or anyone seeking a relaxing vape experience without any potent cerebral effects. 

Testing Methodology

Our products are rigorously tested by independent, third-party laboratories, which allows us to screen for the presence of pesticides, heavy metals, solvents, and other contaminants at resolutions exceeding parts per billion. Our products NEVER use tocopheryl acetate (vitamin E acetate), propylene glycol, vegetable glycerin, artificial flavoring, synthetic terpenes, fillers, additives, or cutting agents in our vaporizer pens. 

We run up-to-date, full-panel analytical tests at multiple stages of the production process. From cultivation to extraction, we thoroughly analyze every Kurvana product through third-party labs, which post these results on their website. Using these rigorous quality assurance methods, we can guarantee that Kurvana products are free of solvents, microbials, additives, pesticides, and toxic chemicals. Please check out our blog for more information on our commitment to safety and quality:https://kurvana.com/our-commitment-to-quality/.
| Strain Name | Strain Type | Anxiety | Appetite | Creativity | Depression | Energy | Inflammation | Insomnia | Nausea | Pain | Relaxation | Stress |
| --- | --- | --- | --- | --- | --- | --- | --- | --- | --- | --- | --- | --- |
| Sunset Tea 10:5:1 | Infused Indica | | | | | | | | | | | |
| Banana Smoothie 5:1:5 | Infused Hybrid | | | | | | | | | | | |
| Mint Chip 5:1:10 | Infused Sativa | | | | | | | | | | | |
This chart is for educational purposes only. This information is neither a substitute for, nor does it replace, professional medical advice, diagnosis, or treatment. If you have any concerns or questions about your health, you should always consult with a physician or other health-care professionals.