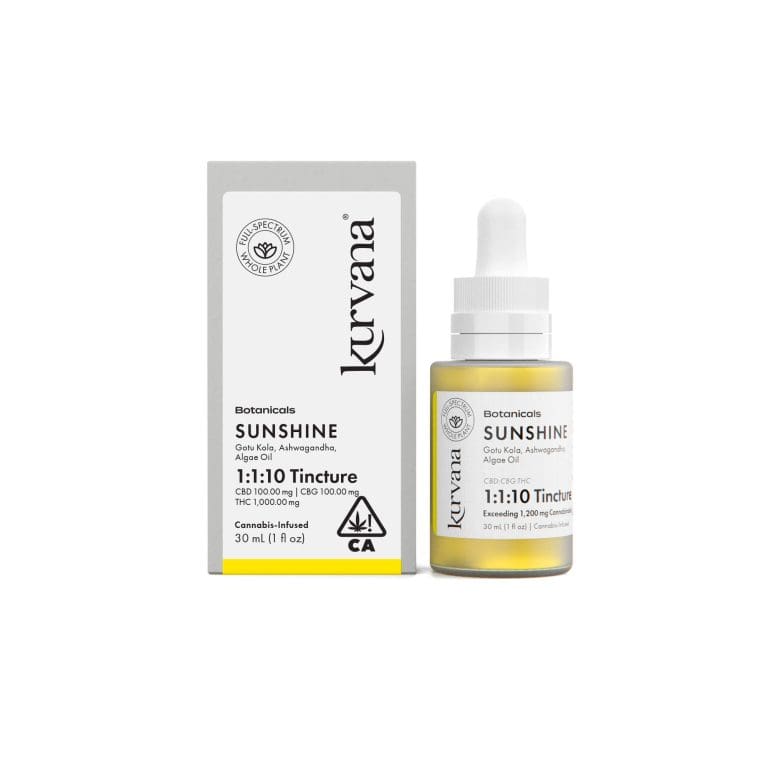 Sunshine 1:1:10
Stimulating and invigorating, this THC-dominant tincture, which contains revitalizing citrusy notes, uplifts and energizes moments when mental clarity and focus is essential, allowing creativity to thrive.
Bioactive Ingredients
Gotu Kola
Ashwagandha
Algae Oil
Shop Delivery
Shop Locally
$75
(+applicable local and state taxes)
KurvanaScope
Unprecedented testing transparency. Learn more about this product below:
Potency per 30 mL

Total Cannabinoids

1,200.00 mg

Total CBD

100.00 mg

Total CBG

100.00 mg

Total THC

1,000.00 mg

*Potencies vary by batch.

Single Serving Information

CBD

1.67 mg/serv.

CBG

1.67 mg/serv.

THC

16.67 mg/serv.

Total Cannabinoids

20.00 mg/serv.

60 servings per bottle when dosed in 0.5 mL portions.

Bioactive Ingredients

C8 + C10 (Pure Organic MCT Oil)

Instructions

Place 0.5 mL under the tongue, holding it there 15 seconds before swallowing. Shake before use.

Ingredients

Organic C8/C10 (caprylic-capric triglyceride), organic virgin golden hemp seed oil (cannabis sativa seed oil), green tea seed oil (camellia sinensis seed oil), lemon oil 100% pure essential oil food grade (citrus limon peel oil), algae oil (dha algal oil), virgin organic black cumin seed oil (nigella sativa seed oil), gotu kola (centella asiatica extract), ashwagandha (withania somnifera root extract), monk fruit extract

Testing Methodology

All Kurvana products are lab tested multiple times throughout the production process including a final state mandated compliance test which undergoes 7 phases of testing for: Microbials, Mycotoxins, Pesticides, Cannabinoids, Heavy Metals, Foreign Materials and Residual Solvents.