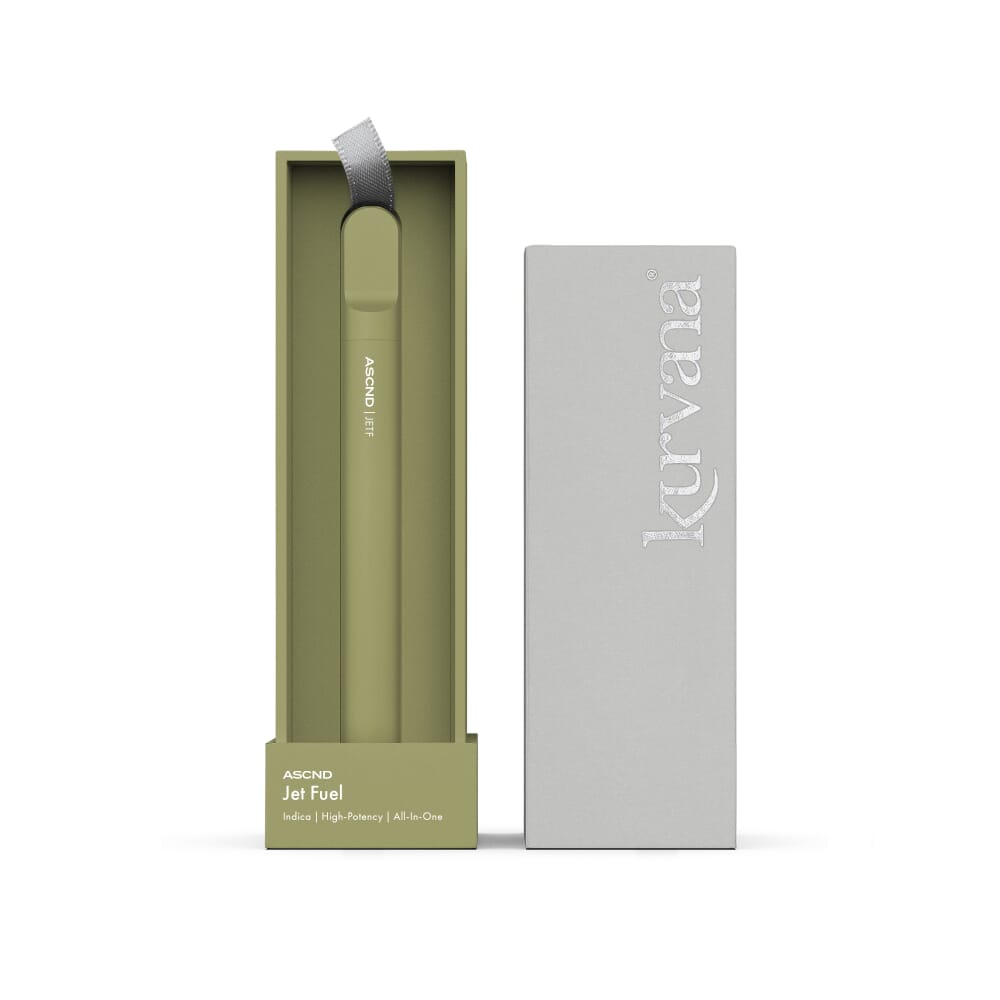 Soar Into Relaxation With Jet Fuel, Santa Ana's Favorite Strain
If you haven't yet tried Kurvana's Jet Fuel, you're in for an exciting treat. Intense joyful and focused cerebral effects are complimented by full-body relaxation and a flavor profile that takes your tastebuds to soaring OG heights. Even the name alone evokes a sense of adventure, and there's no better place to try this potent but relaxing cannabis strain than Santa Ana, California. In fact, some locals are calling Jet Fuel Santa Ana's favorite strain! Let's explore why, and where to find it. 
Discovering the Jet Fuel Strain
Jet Fuel is an indica-dominant hybrid that was created by crossing the strain Aspen OG and High Country Diesel. Because Kurvana uses only premium, full-spectrum cannabis oil in all of our products, each strain shows strong characteristics of its terpene makeup. In the case of Jet Fuel, the primary terpenes are limonene and beta-caryophyllene. The terpene limonene gives the strain a citrus aroma, while beta-caryophyllene imparts a slightly spicy aftertaste. You'll also find earth and diesel fuel notes in the aromatics of Jet Fuel, and this is due to the combination of certain terpenes like myrcene. It's no wonder that this pungent indica is a favorite in Santa Ana, where the locals have discerning taste when it comes to their cannabis.
Jet Fuel strain effects tend to be relaxing, euphoric, and mentally stimulating. It's a popular indica pen for vaping with friends, as it tends to spark lively conversation and offers a boost of creative energy, yet it simultaneously lends itself to an easy-going atmosphere and mood. This combination of body relaxation with a creative spark is why Jet Fuel lends itself so well to Santa Ana, the laid-back city with a bit of attitude. If you enjoy the classic Diesel strains and are seeking a new THC vape cartridge to try, Jet Fuel just may be your match.
Jet Fuel is part of Kurvana's exciting ASCND line, which prioritizes intense potencies with milder tastes and powerful effects. We use only full-spectrum, single-strain extracts to ensure maximum flavor, character, and the true essence of the whole, live plant.
Kurvana's Jet Fuel All-In-One vape pen affords a convenient, portable option for exploring Santa Ana with friends, and with all the fuel you need for a fun-filled day around town.
Where to Buy Jet Fuel: Santa Ana's Cannabis Dispensaries
Now that you're all set to experience the incredible effects of the Jet Fuel strain, you might be wondering where to find quality cannabis products in Santa Ana. Well, you're in luck, because there is no shortage of reputable dispensaries offering some of the best deals for cannabis in Santa Ana, CA.  You can find Kurvana's Jet Fuel cartridge or our Jet Fuel All-In-One option at Evergreen, Farmacy, From the Earth,  Orange County Cannabis Club, Rebud, and Legacy Kush. Several of these also offer local delivery service, and all are reputable dispensaries that carry premium cannabis, including top-shelf Kurvana vape products like our Jet Fuel cartridge. 
If you prefer the convenience of delivery, you have plenty of options, including Jaderoom. With their extensive menu and prompt service, Jaderoom brings the Jet Fuel strain right to your doorstep. Eaze, From the Earth, and High Seas Delivery are just a few other ways to have Jet Fuel delivered on demand. So sit back, relax, and let the good times roll – right up to your door. 
You can also shop from Kurvana directly on our website, where we partner with local delivery services to fulfill all of your cannabis needs. This includes our vape cartridges, hardware, All-In-One options, tinctures, and topicals.
Santa Ana Events and Destinations for Cannabis Enthusiasts
If you're wondering what to do in Santa Ana, California, there is no shortage of events for cannabis enthusiasts. Many of the local vape shops in Santa Ana (dispensaries) host events, festivals and in-store deals and giveaways, so it's usually just a matter of keeping up with their social media pages. Farmacy regularly hosts local and regional cannabis-themed events. You'll find everything from workshops that teach you how to make your own tinctures, to science fairs about the cannabis plant, to meetups, mixers, and more. 
NORML, which has dubbed itself "Orange County's first and only cannabis education organization" hosts educational seminars and social mixers throughout the year, which you can easily find on their events calendar and by following their Instagram account. 
Of course, Santa Ana is known for much more than its cannabis culture. You can find restaurants, food markets, lounges, nightlife, museums, and shopping galore in this bustling Orange County city. Santa Ana is also known for its scenic nature walks and hiking trails, some with breathtaking vistas. Keep in mind, however, that public consumption isn't legal in California or while operating a vehicle, so limit any cannabis use to private property only. 
After you've shopped for Jet Fuel at one of the area's many dispensaries (and perhaps fueled up on food at one of the city's hundreds of restaurants) check out the monthly Art Walk in historic downtown Santa Ana, where local artists showcase their work. Support local creators as you take in live music and entertainment, and enjoy the prime people-watching this event offers. 
If art and crowds aren't quite your thing, keep it low-key on the Santiago Creek Trail. This scenic trail offers a peaceful escape from the city's hustle and bustle, which may be just what you need in a Jet-Fueled state of mind. You can go hiking or biking along the picturesque creek, which is surrounded by lush greenery and wildlife – the perfect way to end your day in the eclectic, burgeoning city of Santa Ana.
Conclusion
Jet Fuel is a strain that's perfect for exploring Santa Ana with friends as you enjoy the city's diverse range of attractions and events. Whether you simply want to relax and unwind, or you're looking to elevate your mood and energy level, this full-spectrum hybrid is an excellent choice. It boasts high potency, classic Diesel lineage, and terpene-rich flavor. It's easy to see why Jet Fuel is Santa Ana's favorite strain.
Looking for a Jet Fuel cartridge or Kurvana's Jet Fuel All-In-One? Find Your Strain Fast!