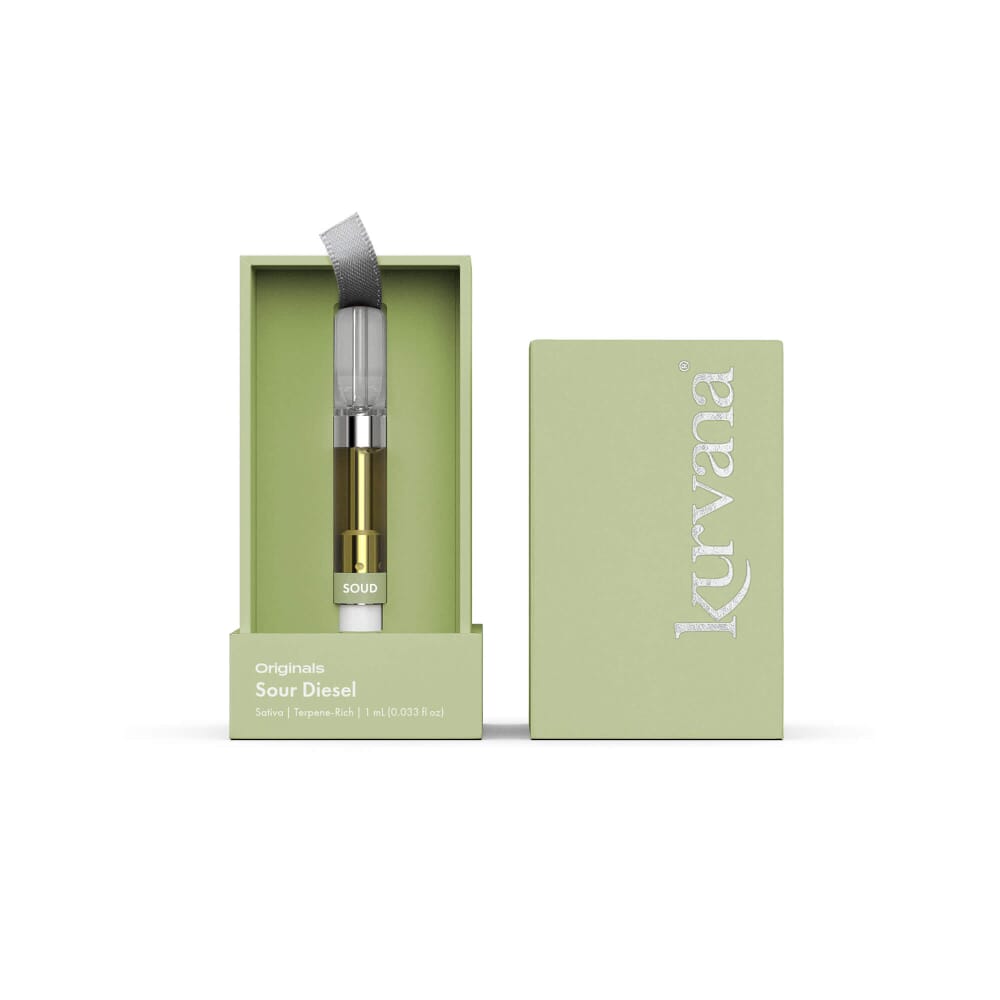 The Legend of Sour Diesel: From NYC's Underground to Los Angeles' Favorite Vape 
If you're a cannabis enthusiast, chances are you've probably tried, or at least heard of Sour Diesel. This legendary strain has a rich history and deep-rooted connections to New York City, where it rose to fame during the underground cannabis scene of the 1990s. While the exact origins of the strain remain shrouded in mystery, including how it made its way from the east coast to the west coast, one thing is clear: Sour Diesel has become the cannabis community's favorite strain to vape. Its intriguing past, powerful punch and potent effects have only made it more popular in recent years. From underground New York to dispensaries across Los Angeles and beyond, Sour Diesel continues to set the bar high for growers coast to coast. 
Sour Diesel's East Coast Roots
It still isn't known exactly how Sour Diesel came to be, considering that cannabis wasn't yet legal when it appeared on the grunge music scene in 1990s New York. One of the more popular narratives traces the beloved strain's roots back to a grower named AJ, an intern at a popular music venue called 'Wetlands' in Manhattan's Tribeca neighborhood. AJ allegedly crossed the strain Chemdog (aka Chemdawg) with what is thought to have been Skunk or Northern Lights. This result impressed all who tried it, and Sour Diesel started making the rounds at concerts and parties around NYC.
Sour Diesel quickly gained a reputation throughout NYC's cannabis community as a potent, intensely euphoric strain that everyone wanted, but it was not so easy to get your hands on the stuff of legends. For years, the strain proved to be rare and expensive, yet it continued to make waves. Some cannabis writers contest that Sour Diesel was in fact made popular by another grower named "Weasel" on Staten Island, and that Chemdog was actually crossed with both Skunk and Hawaiian, rather than Northern Lights. Not everyone agrees on the finer details, and in truth, we may never know this heavy-hitting strain's entire story. What we do know, without a doubt, is that Sour Diesel is just as sought-after today – on both coasts – as it was during New York's 90s grunge music scene. So, what makes this strain continue to turn heads?
Flower to Vape: Sour Diesel Strain Effects
Sour Diesel, often simply referred to as "Sour D," is a sativa-dominant hybrid known for its fuel-like aroma and very strong cerebral effects. The "Sour" in the name reflects the strain's characteristic tangy and skunky notes. This unmistakable aroma is not only what earned it its name, but also contributes to its immediate recognition and popularity among cannabis enthusiasts. It has a way of bringing out the best in creative types, who turn to its heady nature to inspire works of art, writing, and of course, musical projects. Reading through any Sour Diesel strain review and you'll notice descriptors like "creative," "energized" and "euphoric" as well as "giggly" and "relaxed."
While vaping or smoking fresh flower is always a reliable option, an increasing number of Angelenos prefer the convenience and cost-effectiveness of vaping oil cartridges. Cartridges allow for a more discreet experience, and cannabis oil offers a more intense potency that doesn't lose freshness as quickly as flower. When it comes to Sour Diesel, experiencing its pungent diesel and slightly citrus aroma is part of the appeal, and this is easiest to achieve in a pure, potent, and terpene-rich extract.
Kurvana's premium, full-spectrum cannabis oil is extracted using the whole live plant, ensuring you get the full Sour Diesel terpene profile and iconic effects in every draw. We also work directly with only local California growers, which allows us to offer a complete farm-to-vape experience. Our products are third-party lab tested for purity, and they taste natural because they are.
Sour Diesel Vape – Cannabis Delivery in Los Angeles
During the late 20th century, California played a significant role in the development and dissemination of many cannabis strains, including Sour Diesel. Today, Sour Diesel is a commercial powerhouse, and it remains as one of the most popular strains cultivated by licensed growers and dispensaries. If you still haven't tried this legendary strain, you're in for a treat, and now that you know a bit more about this strain's history, you might even be inspired to make a 90's playlist just for your Sour D sessions.
You can shop for Kurvana's Sour Diesel vape directly on our website, or try one of LA's outstanding dispensaries, many of which offer delivery straight to your door! 
In West Hollywood, head over to The WOODS, Med Men, or Zen Healing for all of your Kurvana and Sour Diesel needs.
If you're in East Los Angeles, check out  HAVEN, Cookies, and Skyhigh LA. Eaze is also an excellent go-to for cannabis delivery in Los Angeles. 
Culver City has many dispensaries, including Sweet Flower (which offers a second location in the valley) and Amuse, which offers one-hour delivery. 
Santa Monica and the entire west side of LA has no shortage of dispensaries, including Nugg Club, Local Cannabis Co. and Green Goddess Collective in Brentwood. Be sure to head over Beverly Hills, where you'll find The Artist Tree, which is a full-service dispensary as well as a cannabis lounge and cafe. 
If you're in the Studio City or North Hollywood areas, be sure to visit Project Cannabis, iLyfted, or REBUD for some amazing Sour Diesel deals. 
Finally, downtown LA is full of dispensary options, many of which are also located in the areas named above, and most offer same-day delivery. If you would still like more options, type in your location in our Kurvana Direct search tool to find a dispensary near you.
Kurvana's Sour Diesel vape is only a few clicks away!